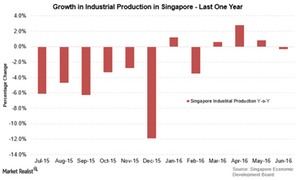 Why Did Singapore's Industrial Production Fall?
Singapore's industrial production fell
Singapore's industrial production fell on an annual basis by 0.3% in June—compared to a rise of 0.8% in the previous month and against expectations of a decline of 0.2%. The fall was primarily driven by a decrease in the output of major industries including general manufacturing, chemical, biomedical, and transport engineering. The decline was partially offset by an increase in the output of electronic and precision engineering. On a monthly basis, industrial production in Singapore fell by 2.5% in June—in line with estimated forecasts and a decline of 0.4% in May. The iShares MSCI Singapore (EWS) and the iShares MSCI All Country Asia ex Japan (AAXJ) were trading higher by 0.46% and 0.99%, respectively, on July 26 at 4:30 PM EST.
Article continues below advertisement
Article continues below advertisement
Trade deficit continues to widen for the Philippines
The trade balance for the Philippines released at a deficit of $2.02 billion for May—compared to a surplus of $65 million in the same month the previous year. Exports declined and imports rose during the month. Exports declined by 3.8% on an annual basis in May, while imports increased substantially by 39.3%. The trade gap for the Philippines widened to $9.8 billion for the period from January to May. The iShares MSCI Philippines (EPHE) was trading lower by 0.42% on July 26 at 4:30 PM EST.
Trade balance shrinks for Hong Kong
A trade deficit of $45.6 billion was reported for Hong Kong for June—almost equivalent to the $45.7 billion gap reported last year. While exports declined by 1.0%, imports fell by 0.9% in June. Sluggish demand continues to impact the global economy. Concerns among authorities have been escalating about a discrepancy in the exports from China into Hong Kong due to fake trade invoicing. The iShares MSCI Hong Kong (EWH) and the iShares China Large-Cap (FXI) were trading higher by 1.8% and 1.2%, respectively, on July 26 at 4:30 PM EST.