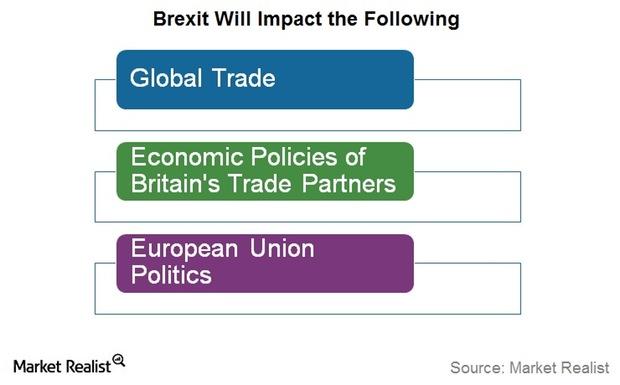 Scenario Analysis: What to Expect after the Brexit Vote
If Brexit goes well
The United Kingdom was a valuable member of the EU (European Union)—both in terms of financial contributions and as a strategic ally. However, it was feeling undercut by the EU's political leaders. It was a major reason why certain sections of the United Kingdom's society voted "leave."
In the previous part, we discussed certain advantages that the Brexit vote might bring to the United Kingdom. Let's assume that because of those aspects, especially trade, the United Kingdom can negotiate favorable terms with the EU. This will give a louder voice to certain segments of Italy (EWI), France (EWQ), and the Netherlands (EWN) that have already been in favor of their respective nations exiting the EU (VGK) (DBEU) (HEZU).
Since the previously mentioned countries are important members of the EU, one of two possible outcomes might occur.
The EU will disintegrate—this would be cataclysmic.
EU leaders will need to take cognizance of the issues being faced by its members and find solutions. This could save the EU, but it will need to compromise on the four freedoms outlined in the previous part.
EU leaders will need to decide what's more important to them—preserving the four freedoms at all costs or preserving the EU.
Article continues below advertisement
Article continues below advertisement
If Brexit ends in a disaster
If negotiations after the Brexit vote pave a tough road for the United Kingdom, then the previously mentioned countries will be forced to rethink a referendum. Their respective economic states may not give them enough confidence to do it alone. This would force them to stay in the EU. If this happens, it will tighten EU politicians' grip on member nations.
One thing is certain, the Brexit vote will change the global trade landscape. It will impact economies around the world that trade with the United Kingdom. Let's look at the overall impact on some of these geographies. We'll start with the US.