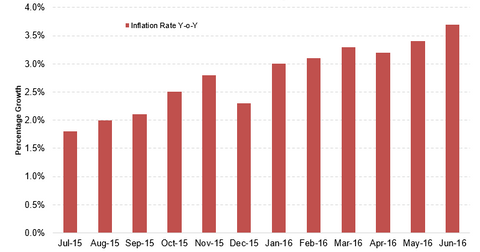 Scandinavian Indexes Rally as Inflation Rises in Norway and Denmark
By David Meyer

Updated
Consumer prices in Norway almost hit eight-year highs
The Scandinavian indexes were trading on a higher note towards the end of the day on July 11 following higher inflation numbers in Scandinavian countries, driven by a rise in housing and prices of utilities. The inflation rate for Norway was higher for June at 3.7% on an annual basis against 3.4% in May and expectations of 3.1%. It was the highest increase since October 2008. On a monthly basis, the inflation rate in the Scandinavian economy rose by 0.6%, higher than 0.3% in May and estimated forecasts of 0.1%.
Core inflation in Norway on an annual basis rose by 3.0% against 3.2% in the previous month and above estimates of 2.7%. Producer prices, on the other hand, contracted by 9.7% in June against a fall of 11.9% in the previous month.
Article continues below advertisement
Danish inflation rose by 0.3%
Among other Scandinavian nations, the inflation rate in Denmark rose by 0.3% for June on an annual basis against a 0.1% rise last month and above expectations of 0.2%. The increase in consumer prices was the highest since February this year. The core inflation rate was recorded at 0.8% for June on an annual basis versus 0.6% in May.
Performance of major Scandinavian indexes
The iShares MSCI Norway Capped ETF (ENOR) and the iShares MSCI Sweden ETF (EWD) rose by 2.1% and 1.5%, respectively, on July 11. Looking at major ADRs (American depositary receipts) among Scandinavian countries, Novo Nordisk (NVO) rose by 1.5% while Ericsson (ERIC) rose by 1.9%. Statoil ASA (STO) also rose by 0.94%.