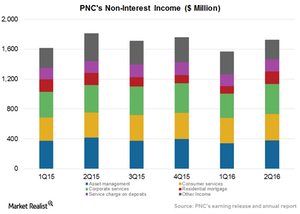 PNC Financials' Non-Interest Income Ratio Continues to Expand
Non-interest income
PNC Financial Services (PNC) combines its asset management, consumer services, corporate services, residential mortgage, service charge on deposits, and net securities gains into its non-interest income. PNC Financial's non-interest income for 2Q16 increased by 10% over the previous quarter, mainly due to higher fee income growth.
Asset management revenue increased by $36 million. This was mainly due to higher earnings from PNC's equity investment in BlackRock and stronger equity markets.
Article continues below advertisement
Consumer service fees increased by $17 million due to higher client activity and seasonal increases in payment-related product activity including debit card, credit card, and merchant services. Corporate service fees increased by $78 million, mainly due to higher merger and acquisition advisory fees and higher loan syndication fees.
Other non-interest income declined by $42 million. It included negative valuation adjustments of $51 million, primarily associated with nonconforming investments under the Volcker Rule provisions of the Dodd-Frank Act. Residential mortgage banking non-interest income increased by $65 million. This was driven by net hedging gains on mortgage servicing rights of $35 million. To compare, there were net hedging losses of $8 million in the first quarter.
Major players in residential mortgage and asset management (VFH), including BlackRock (BLK), JPMorgan Chase (JPM), and BNY Mellon (BK), are focusing on an improved performance of their holdings in order to attract new capital.
Interest income
In 2Q16, PNC's net interest income decreased by $30 million from the previous quarter to $2.1 billion. The decline was primarily due to lower purchase accounting accretion and a slightly lower core net interest income.
In 2Q16, the net interest margin decreased to 2.7% from the 1Q16 margin of 2.75%, driven by the impact of a lower benefit from purchase accounting accretion. Total revenues for the second quarter increased by $129 million from the previous quarter to $3.8 billion.