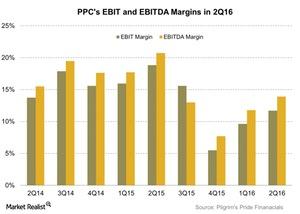 Did Pilgrim's Pride Successfully Drive Margin Growth in 2Q16?
Growth and brand expansion initiative
In its 2Q16 earnings call, Pilgrim's Pride (PPC) said that despite the fall in margins, the company's margins depict its ability to adapt to different market scenarios and the resilience of its portfolio. EBIT (earnings before income and tax) and EBITDA (earnings before income, tax, depreciation, and amortization) margins were 11.7% and 13.9%, respectively, for the quarter.
In the case-ready product category, the company initiated different approaches in product mix, customization, and market segmentation to strengthen its margin opportunities.
To support its commitment to the initiatives taken in fresh chicken and prepared foods, the company is reinvesting cash flow in the business throughout 2016. It should ultimately help it maximize returns on capital and shareholder value.
Pilgrim's Pride believes its target capital spending plan will further enhance growth prospects with major customers and its Pierce Chicken brand.
The company announced on February 16, 2016, a $190 million strategic capital investment plan to strengthen growth with key customers and expand production of Pilgrim's Pierce Chicken brand. You can read about it in Analyzing Pilgrim's Pride's Strategic Capital Investment Program.
These projects are currently on track. The company continues to seek opportunities for a better product mix and higher efficiencies. This could ultimately offer a better margin profile. The company plans to achieve this not only from its key existing customers but also from new accounts.
Article continues below advertisement
Article continues below advertisement
Long-term strategic plan
The company's new complex in Veracruz is part of its long-term strategic plan to enhance production. It mentioned in its 2Q16 call that this new facility is performing above expectations and will grow 2% to 4% production of the company's total production in Mexico by year-end.
Portfolio diversification to satisfy customer needs
During the last quarter, Pilgrim's Pride announced its preparations to convert one of its existing complexes to produce USDA- (United States Department of Agriculture) certified organic chicken to meet the growth of key customers. The company believes this strategy will be a game-changer for its portfolio. It expects 25% of its chicken to be ABF (antibiotic-free) by the end of 2018.
The company also launched a new ABF vegetarian-fed line of our artisanal chicken sausages. This product is made with only natural ingredients.
Margins of its peers
PPC peers Hormel Foods (HRL) and Tyson Foods (TSN) saw higher margins in their recent quarters. Sanderson Farms' (SAFM) margins fell sharply.
The AdvisorShares TrimTabs Float Shrink ETF (TTFS) and the Victory CEMP US EQ Income Enhanced Volatility Wtd Index ETF (CDC) invests 2% of their total holdings in PPC.
Next, let's see where Pilgrim's Pride's capital spending is headed in 2016.