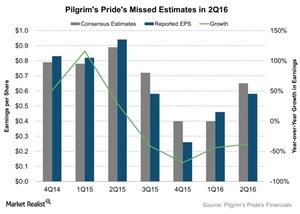 Pilgrim's Pride in 2Q16: How Much Did Earnings Decline?
Earnings were hit hard
On July 27, 2016, Pilgrim's Pride (PPC) reported its financial results for 2Q16, which ended June 26, 2016. On July 28, before the Market's opening bell, management held a conference call to discuss the results.
Pilgrim's Pride's earnings were hit hard again in the second quarter. They fell far below analysts' expectations. Earnings missed estimates by 11%. Adjusted EPS (earnings per share) came in around $0.58 for the second quarter compared to $0.94 in 2Q15. It fell a whopping 38% year-over-year.
Article continues below advertisement
Article continues below advertisement
Expectation for 2016
Net income for the quarter was $153 million compared to $241 million in the comparable period a year ago. Export market disruptions affected Pilgrim's Pride's earnings in 2Q16.
The company expects that the diversity of its portfolio strategy, a product and customer mix, will let the company capture the strength of up markets. It believes this helped it deliver strong results in the second quarter sequentially.
The impact from the weakness of down markets will be lessened ultimately, translating to lower volatility and bringing in consistent earnings and higher margins later in the year.
Management believes that the second half of 2016 is seasonally strong. With export demand strengthening and domestic demand intact, it believes the company may benefit in the later part of the year.
Earnings for its peers
Pilgrim's Pride's main competitors are Tyson Foods (TSN), Hormel Foods (HRL), and Sanderson Farms (SAFM). Tyson and Hormel saw positive earnings growth of 43% and 19%, respectively, in their last quarters. Sanderson Farms saw declining earnings of 33% for its last reported quarter.
The AdvisorShares TrimTabs Float Shrink ETF (TTFS) and the Victory CEMP US EQ Income Enhanced Volatility Wtd Index ETF (CDC) invest 1.3% and 0.48% of their portfolios, respectively, in PPC.
What we'll cover in this series
In this series, we'll be looking at Pilgrim's Pride's 2Q16 performance. We'll include what drove the revenue decline and how the segments contributed. Then we'll look at its margin expansion initiative, its capital spending, and its special dividend paid. Finally, we'll end the series with the stock's reaction to its earnings, its valuation, and analyst recommendations.
In the next part, we'll see why Pilgrim's Pride continued its downward revenue trend in 2Q16.