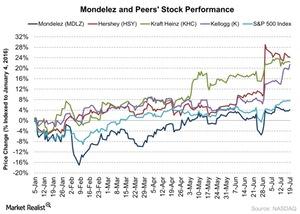 Did Oreo Cookies, Trident Gum Sales Boost Mondelez's 2Q Earnings?
Stock price performance
Mondelez International (MDLZ), maker of Cadbury chocolates and Oreo cookies, is all set to report its fiscal 2Q16 earnings results on July 27 before the market opens. Management will hold a conference call later in the day to discuss the results. Before we dive into the estimates for 2Q16, let's see how the stock is performing.
On June 30, Mondelez sent a preliminary letter of proposal to Hershey (HSY) stating a takeover bid of $23 billion. Mondelez's stock rose 6% to close at $45.51, which makes its market value $70 billion as of June 30. To learn more about why Mondelez made an offer, read Why Was Mondelez Interested in Hershey?
Article continues below advertisement
Article continues below advertisement
The company's stock has risen 4% since last quarter's earnings release. Mondelez reported its fiscal 1Q16 earnings results on April 27. The stock increased 3% with earnings beating estimates by 20%. Mondelez's strong start to 2016 benefitted its stock. Mondelez has gained 4% so far in 2016 and 22% in 2015. The stock closed at $45.58 on July 19.
Peers' stock performance
Peer Nestle (NSRGY) has returned 6% and Kellogg (K) has returned 21% so far in 2016. Nestle and Kellogg closed trading on July 19 at $78.68 and $86.98, respectively. Mondelez is a part of the First Trust Consumer Staples AlphaDEX Fund (FXG) and the PowerShares Dynamic Food and Beverage (PBJ), which holds ~10% in MDLZ.
Article continues below advertisement
Mondelez overview
Mondelez was formed in October 2012 when it was separated from Kraft Foods Group. Kraft Foods Group's North America business was renamed Mondelez International. The company holds a $9 billion dollar portfolio of brands. It's one of the largest snack food companies in the world. Its primary product categories include crackers, chocolate, candy, beverages, cheese, and groceries. The company's portfolio consists of 58 brands and its power brands include Cadbury chocolate, Oreo cookies, Trident gum, Jacobs coffee, and Tang powdered beverages.
What's in the series?
In the rest of this series, we'll discuss analysts' projections for revenue and earnings for Mondelez in 2Q16. We'll also discuss how Mondelez performed in 1Q16. Later we'll see how much Mondelez returned to its shareholders to date. We'll also discuss the company's outlook for 2016 and Wall Street analysts' target price and recommendations. At the end of the series, we'll see how Mondelez compares to its peers' key moving averages.
Let's start with Mondelez's revenue expectations.