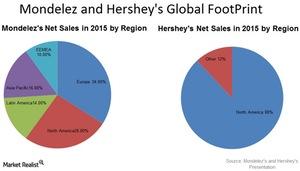 Why Was Mondelez Interested in Hershey?
What would Mondelez have gained?
In Part 2, discussed how the takeover offer impacted the stock price. Now, let's understand why Mondelez (MDLZ) was interested in Hershey (HSY). Hershey generates around 80%–88% of its revenue from North America each fiscal year. Mondelez makes around 19%–24% of its total revenue from North America. The merger with Hershey would have given Mondelez more exposure to the North American market.
Hershey generates as little as 10%–12% of its revenue from international markets. Mondelez gains around 60% from international markets. This deal would have helped Hershey's exposure in the international markets.
Article continues below advertisement
Article continues below advertisement
Market share ranking
As reported by Euromonitor, Mondelez holds the second-largest market share of 13% regarding revenue. Hershey is in fifth place with 5% of the market share. This deal would have brought together the second and fifth-largest companies in the snack industry. Mars leads the chart.
With product categories like cookies, chocolate, and candy, Mondelez holds the first position and second position in gum. According to data from Statista, Hershey has 44% of the market share. It was one of the leading chocolate companies in the US in 2015. Mars follows with 28% market share. As reported by Statista, Hershey was at the top of the chart with 31% market share in confectionery sales in 2015 in the US. Mars and Mondelez followed with 29% and 5%.
Recent performance
Hershey's sales have been declining in the past few quarters. In fiscal 1Q16, its sales fell by 6% YoY (year-over-year) to $1.83 billion—compared to $1.94 billion in the same period last year. For fiscal 2015, Hershey didn't have any revenue growth. This merger would have given Hershey a chance to expand globally and benefit its revenue growth.
Mondelez wanted a greater share in the North American market to recover from its declining revenue growth. Hershey's strong hold in the North American market would have benefited Mondelez's revenue. Mondelez's revenue for fiscal 2015 fell 13% YoY to $29.64 billion—compared to $34.24 billion in fiscal 2014. Revenue is expected to fall 10% in fiscal 2016. In its recently reported fiscal 1Q16, revenue fell 17% to $6.46 billion from $7.76 billion in fiscal 1Q15.
You can get exposure to these stocks by investing in the Guggenheim S&P Equal Weight Consumer Staples ETF (RHS). RHS has 5.4% of its portfolio invested in Hershey and Mondelez. It also holds 5% in packaged food companies like Kellogg (K) and Kraft Heinz (KHC).