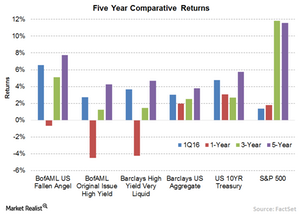 Interest Rate Outlooks Don't Affect All Asset Classes: Here's Why
Historically, it seems that fallen angels generally perform well across interest rate environments. How do you expect the interest rate outlook to affect returns going forward?
Despite their higher average interest rate duration, currently 5.7 versus the broad high yield bond market's 4.7, fallen angels (ANGL) have outperformed four out of the last five calendar years when interest rates rose 1% or more.[2. Modified duration measures the responsiveness of a bond's price to interest rate changes. It is defined as the percentage change in price for a 100 basis point change in interest rates. Broad high yield bond market is represented by the BofA Merrill Lynch US High Yield Index. Fallen angels represented by the BofA Merrill Lynch US Fallen Angel High Yield Index.] That is because there are factors other than interest rates that impact bond prices, such as credit quality and sector positioning.
Article continues below advertisement
Article continues below advertisement
Data as of December 31, 2015. Past performance is no guarantee of future performance. Index performance is not illustrative of fund performance. Please click the "Disclosures" link at the beginning of this article for descriptions of the indices referenced in this chart. Fund performance current to the most recent month end is available by visiting www.vaneck.com/etfs.

Higher exposure to BB-rated bonds than B-rated or CCC-rated bonds may help better absorb broad market volatility that can occur when there is a rate shock, as we saw in 2013 during the taper tantrum.
Sector themes and market fundamentals can outweigh the duration impact on returns in certain environments. Being underweight a declining sector, such as energy (OIH) in 2014 when oil prices began to collapse, or overweight an appreciating sector, such as energy when commodities rallied in February 2016, could preserve or add significantly to a portfolio's returns. The Fallen Angel Index participated that way in both of these declining and appreciating sector themes. Year to date, the index is up 13.1% as of May 31, 2016.