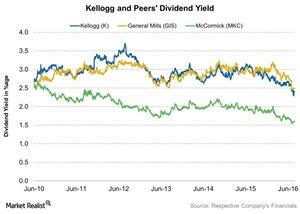 How Much Did Kellogg Return to Shareholders?
Dividend increase
In a press release in April, Kellogg Company (K) announced its dividend increase for 2016. Its board of directors increased the quarterly dividend by 4% to $0.52 per share. The increased dividend will start in 3Q16. It will also increase the company's dividend payout ratio to slightly above 50%.
Currently, Kellogg has a dividend yield of 2.3%. Management increased the dividend at a CAGR (compound annual growth rate) of 4.7% over the last five years. In 2015, Kellogg returned more than $1.4 billion to shareholders through dividends and share repurchases. The company also approved a $1.5 billion share repurchase program that will run through 2016 and 2017. It expects to repurchase ~$700 million–$750 million in shares in 2016.
Below are the dividend yields for Kellogg's peers as of July 26:
Article continues below advertisement
Article continues below advertisement
Kellogg paid its 366th dividend
In the same press release in April, the company also announced a quarterly dividend of $0.50 per share on its common stock. It was paid on June 15, 2016, to shareowners of record at the close of business on June 1, 2016. It marked the 366th dividend that the company has paid to owners of common stock since 1925. The First Trust Value Line Dividend Index Fund (FVD) and the iShares S&P Global Consumer Staples ETF (KXI) invest 0.56% and 0.59% of their portfolio in Kellogg.
In the next part, we'll look at Kellogg's updated guidance for 2016.