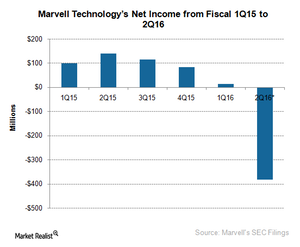 Marvell Hit by Several Internal and External Challenges
Challenging environment for Marvell
Marvell Technology Group (MRVL), a supplier of silicon solutions for storage, cloud infrastructure, IoT (Internet of Things) connectivity, and multimedia, has been making news over the past nine months for all the wrong reasons.
Aside from the slowdown in the semiconductor industry, weakness in PC (personal computer) and smartphone demand, and weakness in the global economy, Marvell has been going through some of its own issues, which have caused the company's stock to fall by 28% in the past year.
Article continues below advertisement
Article continues below advertisement
Accounting scandal
In September 2015, Marvell reported an unexpected loss of $382.4 million in its fiscal 2Q16, which was in complete contrast to analysts' consensus estimate of $11.9 million in profit. This triggered an internal audit of the company's financial statements followed by the resignation of external accounting company PricewaterhouseCoopers in October 2015.
The issue took the form of an accounting scandal. Two government authorities became involved in December 2015. Deloitte & Touche was appointed as the new external accounting company for Marvell in February 2016.
In May 2016, internal audit results stated that no accounting fraud was detected and that internal controls were not correctly adhered to. The investigation also questioned Marvell's management's operating style.
Exit from the smartphone business
Meanwhile, Marvell also announced its plan to exit the smartphone business in September 2015, as it couldn't compete with Qualcomm (QCOM) and Mediatek. This widened Marvell's losses to around $403 million in fiscal 3Q16.
Qualcomm, with its ARM-based processors, owns 52% of the mobile market. However, it faced falling earnings in fiscals 1Q16 and 2Q16 as smartphone sales growth slowed.
Revamping the management
All this raised questions about the competency of Marvell's management and board. In April 2015, the company's leadership changed hands with immediate effect. Cofounders Sehat Sutardja and Weili Dai, who were acting as the CEO and president, respectively, were forced to resign. Their places were taken by the interim office of the CEO, headed by top officials of the company.
Hedge fund Starboard Value found opportunity in these troubles. It purchased a 6.7% stake in the company in April 2016, giving it four seats on the company's board. Marvell also attracted Chinese (AAXJ) investment, making it a possible acquisition target.
New leaders took to the helm of Marvell Technology in May and June 2016. Among them was Richard Hill, a Starboard-backed director who was made chair of the board.
Marvell is not the only company announcing management changes. Cypress Semiconductor's (CY) founder and CEO stepped down in April 2016, and several top management executives left Intel (INTC), Qualcomm, and Advanced Micro Devices (AMD).
In this series, we'll look at each of Marvel's challenges in detail and identify its impact on investors.