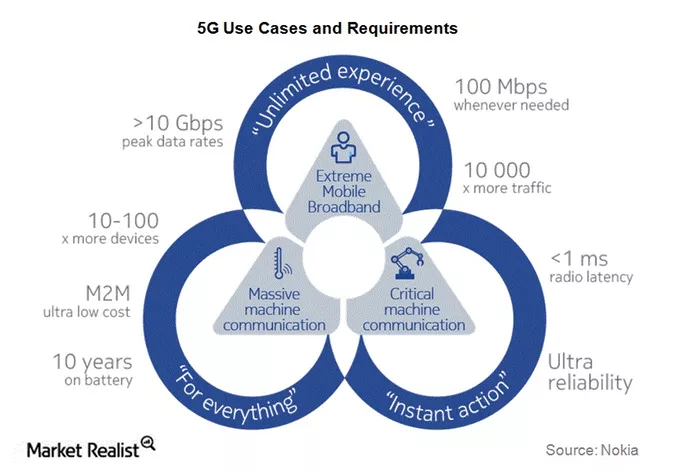 Who Are the Major Players Targeting the 5G Space?
Cisco, Intel, and Ericsson partner to develop first 5G router
In March 2016, Cisco (CSCO) announced that it would collaborate with Ericsson (ERIC) and Intel (INTC) to develop the industry's first 5G (fifth generation) router. As members of the Verizon 5G Technology Forum, Cisco, Intel, and Ericsson will partner with Verizon (VZ) to accelerate the pace of critical 5G innovations.
The 5G router will enable businesses and residential customers to achieve faster networking speeds, lower latency, and the ability to handle more Internet-connected devices.
Article continues below advertisement
Article continues below advertisement
Earlier this year, Ericsson joined China-based (GXC) China Mobile's (CHL) 5G Joint Innovation Center Program to accelerate the development of next-generation wireless networks, which is expected to be faster, more powerful, and offer greater opportunities. This agreement was announced at the Mobile World Congress (or MWC) 2016 in Barcelona.
According to Ericsson's press release, China Mobile's 5G Innovation Center aims to accelerate the deployment of 5G by "establishing a cross-industry ecosystem and setting up an open lab to provide a platform for new products and applications, and to foster new business and market opportunities."
Nokia eyes 5G transition by 2020
According to Rajeev Suri, the CEO of Nokia (NOK), the company's Mobile Networks business group is moving aggressively to target leadership in 5G (fifth generation), thereby leveraging Nokia's greater size and strengthening its market position. Nokia is planning a massive shift to 5G in 2016.
Suri also stated that he sees the transition to 5G wireless networks beginning well before 2020, the year in which industry experts project the start of mass-market upgrades.