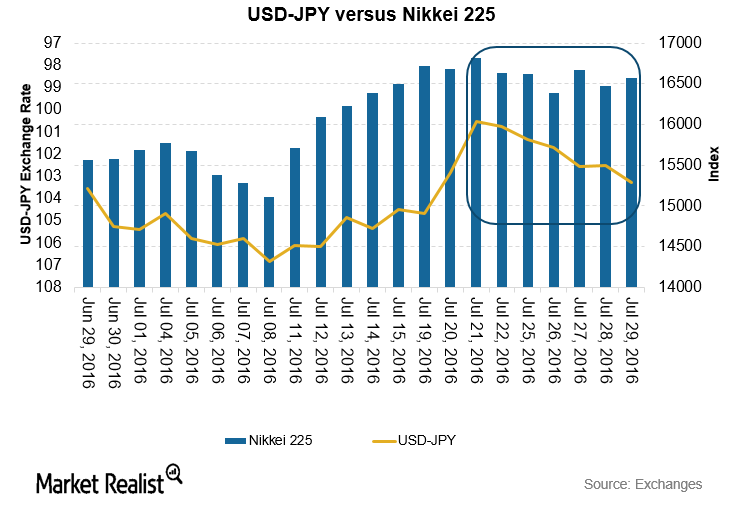 Analyzing the BoJ's Monetary Policy Enhancement Measures
BoJ's monetary policy
The BoJ's (Bank of Japan) monetary policy was the most awaited macro event this week. For a look at this week's macro calendar, read Why the FOMC, BoJ, and EBA Will Drive Markets This Week. As expected, the FOMC (Federal Open Market Committee) kept the rates unchanged while keeping the September rate hike speculations running in its monetary policy review on July 27. Read FOMC Keeps the Door Open for a Live Meeting in September for more details about the FOMC meeting. The BoJ was the first major central bank to expand its easing program in the aftermath of the Brexit vote. In this series, we'll look at the key enhancement measures announced by the BoJ, the BoJ's economic outlook, and the recent data releases that had a say in the policy.

Article continues below advertisement
Article continues below advertisement
Monetary easing measures
The BoJ's two-day monetary policy meeting ended on July 29, 2016.
Some of the major enhancement measures taken by the BoJ were as follows:
It's nearly doubling the purchase of Japanese ETFs from the current annual allocation of 3.3 trillion yen to 6 trillion yen. The BoJ is hoping to provide stimulus to the stock markets with this action. The major Japanese stocks and the Nikkei Index would be the eventual beneficiaries.
The BoJ will double its US dollar–based ending program from $12 billion to $24 billion.
The BoJ will also establish a new system where it will lend the Japanese government securities against current account balances to financial institutions. These securities can be pledged for US dollar funds.
The asset purchase program was unchanged at 80 trillion yen.
The prevalent negative interest rates were also unchanged.
Why were markets disappointed with the BoJ release?
After his party's recent election, Japanese (EWJ) (HEWJ) prime minister Shinzo Abe pledged to provide more support to the "Abenomics" policies. Recently, he announced a fiscal stimulus of close to 28 trillion yen (DBJP). These fiscal measures also required support through monetary policy measures. For more details on the above, read Theresa May and Shinzo Abe in Focus as FTSE 100 and Nikkei 225 Soar.
Markets were expecting an increase in the asset purchase program and directions on the possibility of interest rates falling more. Movements in the Nikkei 225 (DXJ) and the Japanese yen (FXY) conveyed the market sentiment. We'll discuss this more throughout the series.