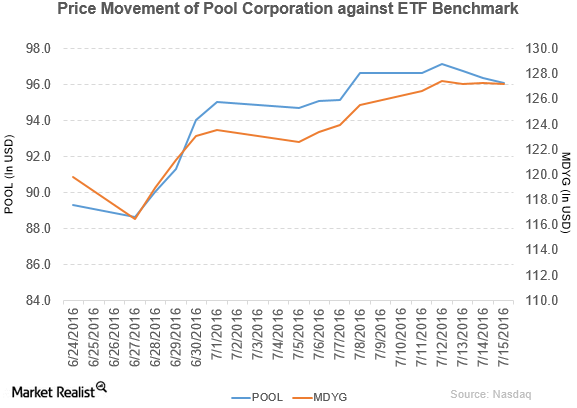 Johnson Rice Downgrades Pool Corporation to 'Accumulate'
Price movement 
Pool Corporation (POOL) has a market cap of $4.1 billion. It fell by 0.27% to close at $96.10 per share on July 15, 2016. The stock's weekly, monthly, and YTD (year-to-date) price movements were -0.59%, 6.6%, and 19.8%, respectively, on the same day. POOL is trading 3.4% above its 20-day moving average, 5.4% above its 50-day moving average, and 15.1% above its 200-day moving average.
Article continues below advertisement
Related ETFs and peers
The SPDR S&P 400 Mid-Cap Growth ETF (MDYG) invests 0.53% of its holdings in Pool. The ETF tracks a market-cap-weighted index of growth companies culled from the S&P 400. The YTD price movement of MDYG was 8.0% on July 15.
The Vanguard Small-Cap ETF (VB) invests 0.10% of its holdings in Pool. The ETF tracks the CRSP US Small Cap Index. The market-cap-weighted index includes the bottom 2%–15% of the investable universe.
The market caps of Pool's competitors are as follows:
Pool's rating and performance in 1Q16
Johnson Rice has downgraded Pool Corporation rating to "accumulate" from "buy." Pool reported 1Q16 net sales of $515.3 million, a rise of 14.4% compared to net sales of $450.4 million in 1Q15. The company's operating income rose by 89.1% in 1Q16 over 1Q15.
The company's net income and EPS (earnings per share) rose to $16.4 million and $0.38, respectively, in 1Q16, as compared to $8.4 million and $0.19, respectively, in 1Q15. It reported adjusted EBITDA (earnings before interest, tax, depreciation, and amortization) of $36.7 million in 1Q16, a rise of 69.9% over 1Q15.
In 1Q16, Pool's cash and cash equivalents and product inventories rose by 97.4% and 6.5%, respectively, over 1Q15. Its current ratio fell to 1.8x, and its debt-to-equity ratio rose to 4.8x in 1Q16, as compared to a current ratio and a debt-to-equity ratio of 2.0x and 3.5x, respectively, in 1Q15.
The company has projected EPS in the range of $3.25–$3.40 per share for 2016.
Now we'll discuss Ecolab.