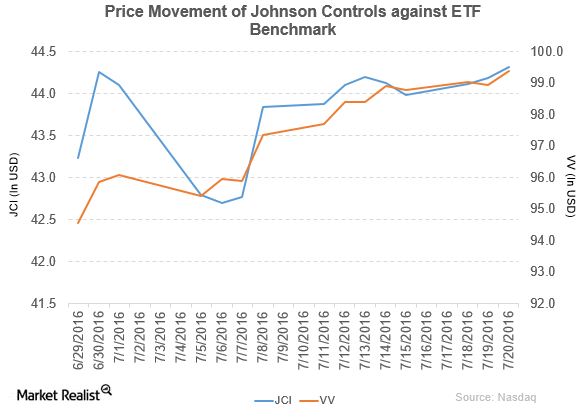 Johnson Controls Declares $0.29 Per Share Dividend
Price movement
Johnson Controls (JCI) has a market cap of $28.8 billion. It rose by 0.29% to close at $44.32 per share on July 20, 2016. The stock's weekly, monthly, and year-to-date (or YTD) price movements were 0.27%, -0.25%, and 13.9%, respectively, on the same day.
JCI is trading 1.6% above its 20-day moving average, 2.1% above its 50-day moving average, and 9.8% above its 200-day moving average.
Article continues below advertisement
Related ETF and peers
The Vanguard Large-Cap ETF (VV) invests 0.15% of its holdings in Johnson Controls. The ETF tracks a market-cap-weighted index that covers 85% of the market capitalization of the US equity market. The YTD price movement of VV was 7.3% on July 20, 2016.
The market caps of Johnson Controls' competitors are as follows:
Johnson Controls declares dividend
Johnson Controls has declared a regular quarterly cash dividend of $0.29 per share on its common stock. The dividend will be paid on August 19, 2016, to shareholders of record at the close of business on August 5, 2016.
Article continues below advertisement
Performance in fiscal 2Q16
Johnson Controls reported fiscal 2Q16 net sales of $9.0 billion, a decline of 1.8% compared to net sales of $9.2 billion in fiscal 2Q15. The company's cost of sales as a percentage of net sales and income from continuing operations before income taxes fell by 2.4% and 34.7%, respectively, in fiscal 2Q16 compared to the same period last year. It reported restructuring and impairment costs of $2.3 billion in fiscal 2Q16.
Its net income and EPS (earnings per share) fell to -$5.3 billion and -$0.82, respectively, in fiscal 2Q16. That compares to $5.3 billion and $0.80, respectively, in fiscal 2Q15.
Johnson Controls' cash and cash equivalents fell by 40.0%, and its inventories rose by 22.9% in fiscal 2Q16 compared to fiscal 4Q15. Its current ratio fell to 0.94x in fiscal 2Q16 compared to 1.0x in fiscal 4Q15.
Projections
The company has made the following projections:
EPS of $3.85–$4 per share for fiscal 2016
effective tax rate of 17% for fiscal 2016
EPS of $1.01–$1.04 for fiscal 3Q16
repurchase of $5.0 billion worth of shares before the end of fiscal 2016
This guidance doesn't include transaction, integration, and separation costs or other non-recurring items.
Now we'll take a look at General Motors.