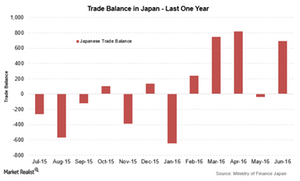 Japanese Trade Surplus Rose in June, Imports Fell More than Exports
Trade surplus rises in Japan
The trade surplus for Japan increased to 692.8 billion yen for June—compared to a deficit of 60.9 billion yen in the same month last year and estimated forecasts of a surplus of 494.8 billion yen. For the first half of 2016, the Japanese economy recorded a trade surplus of 1.8 trillion yen—compared to a deficit of 1.69 trillion yen in the same period last year.
It's the first time that a trade surplus has been recorded in the Japanese economy since 2010. The Fukushima nuclear disaster in 2011 led to higher import bills. It led to long periods of trade deficits in Japan. To learn more about the fall in the trade surplus in May, read Why Japan's Trade Balance Has Fallen.
Article continues below advertisement
Imports fall faster than exports
A steep fall in energy prices helped increase the trade surplus in Japan. Imports fell on an annual basis by 18.8% in June—compared to a 13.8% decrease in the previous month and estimated forecasts of a 19.7% fall. Imports from the major trading partners—China, Taiwan, Singapore, Malaysia, and South Korea—declined. Imports were also seen declining in the US, Latin American, Europe, and the Middle East. On the other hand, exports fell by 7.4% on an annual basis in June—compared to a 11.3% decrease in the previous month and estimated forecasts of an 11.6% fall. Sales to major exporting partners also fell in June with China, Hong Kong, Indonesia, and the US.
Reaction across major indices
Major Japanese ETFs were trading on a negative note on July 25 as the iShares MSCI Japan (EWJ) and the WisdomTree Japan Hedged Equity (DXJ) fell by 0.63% and 0.43%, respectively, at 12 PM EST. The Deutsche X-trackers MSCI Japan Hedged Equity (DBJP) and the iShares Currency Hedged MSCI Japan (HEWJ) fell by 0.70%. Japanese electronic maker Sony (SNE) fell by 1.9% during the day.