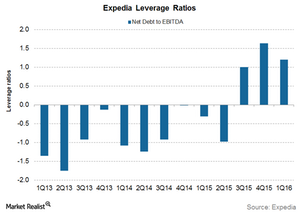 Investors Should Pay Attention to Expedia's Increasing Leverage
By Ally Schmidt

Updated
Increasing debt
Major online travel agencies Expedia (EXPE) and Priceline (PCLN) have developed a duopoly in the online travel market with their aggressive expansion strategy.
For example, Expedia and Priceline have shown interest in China's Ctrip.com (CTRP), with Priceline also increasing its stake. PCLN's partnership with TripAdvisor's (TRIP) Instant Booking platform is another effort to outpace EXPE.
Strong cash flows have certainly helped fund many of these acquisitions, although debt has also played a pivotal role. Total debt on Expedia's balance sheet has increased from ~$1.7 billion at the end of 2014 to ~$3.2 billion at the end of 2015 and ~$3.2 billion at the end of 1Q16.
As a result, EXPE's leverage ratios too have increased. Its total debt-to-EBITDA ratio increased from ~1.8x at the end of 2014 to 3.5x at the end of 2015 and ~3.5x at the end of 1Q16.
In 3Q15, Expedia went from being net debt negative to net debt positive, meaning that its debt is higher than cash on its balance sheet. Its net debt-to-EBITDA ratio has increased from -0.01x in 2014 to 1.6x at the end of 2015 and 1.2x at the end of 1Q16.
At the end of 1Q16, Expedia's cash on its balance sheet totaled ~$2.1 billion. EXPE has also generated ~$1.1 billion from cash flow from operations in the first quarter of 2016.
EXPE forms ~1.3% holding of the S&P 500 Pure Growth ETF (RPG).
Article continues below advertisement
Why is increasing leverage risky?
Both Expedia and Priceline show no signs of stopping their aggressive expansion spree. Today, EXPE's debt is at manageable levels, although this is bound to increase as the competition gets tougher.
Also, the US dollar is expected to stay strong for some time given the deteriorating global conditions. This should subdue EXPE's growth.
High leverage and interest cost reduce its ability to cope with unfavorable conditions, increasing its risk to investors. Investors should pay close attention to Expedia's increasing leverage.