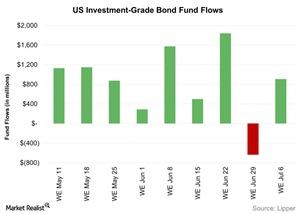 Investment-Grade Bond Funds Saw Inflows Last Week
Investor flows
Flows into investment-grade bond funds were positive last week. According to Lipper funds flow data, investment-grade bond funds saw net inflows of $907.1 million during the week ending July 6—compared to net outflows of $638.6 million in the week ending June 29.
Investment-grade bond funds have seen YTD (year-to-date) net inflows of $15.5 billion up to July 6, 2016.
Meanwhile, investment-grade bond issuance was down from $31.7 billion in the previous week to $26.2 billion last week, due to a holiday-shortened week.
In the week to July 8, Sumitomo Mitsui Financial Group (SMFG), National Australia Bank, Toronto-Dominion Bank (TD), and The Walt Disney Company (DIS) were among the large issuers of investment-grade bonds. You can read the details of these issues in Part 4 of this series.
Article continues below advertisement
Yield and spread analysis of corporate high-quality debt securities
Investment-grade bond yields usually follow cues from the Treasury market. Last week, Treasury yields rose at the short end of the yield curve due to the strong jobs report, but yields fell at the long end of the yield curve. Investment-grade corporate bond yields also fell last week.
For the week ending July 8, the yields fell by 9 basis points and ended at 2.8% on July 8—the lowest since May 16, 2013, according to the BofA Merrill Lynch US Corporate Master Effective Yield.
For the week ending July 8, the Hartford Total Return Bond HLS Fund – Class IA (HIABX) rose 0.5% and the TIAA-CREF Bond Index Fund – Retail Class (TBILX) rose by 0.3%. Meanwhile, the Vanguard Total Bond Market Index Fund (BND) and the iShares Intermediate Credit Bond ETF (CIU) rose by 0.3% and 0.2%, respectively, for the same period.
Like yields, the OAS (option-adjusted spread) fell by 4 basis point last week and ended at 1.6% on July 8. The OAS measures the average difference in yields between investment-grade bonds and Treasuries. Therefore, a fall in this spread implies that the risk of high-grade bonds relative to Treasuries decreased.
For more analysis on mutual funds, please visit Market Realist's Mutual Funds page.