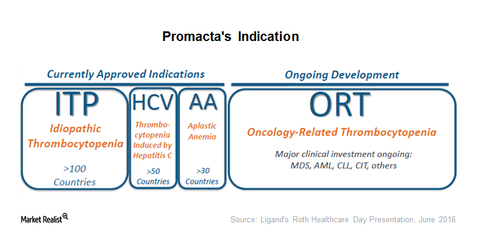 How Much Potential Does Promacta Hold?
By Jillian Dabney

Nov. 20 2020, Updated 11:45 a.m. ET
Promacta: Ligand's key asset
Promacta is Ligand Pharmaceuticals's (LGND) key royalty-generating asset. It's a Novartis (NVS) product, which is marketed as Revolade outside the US. Promacta is indicated for treating chronic immune idiopathic thrombocytopenic purpura (or ITP).
On April 2016, Promacta received approval in the EU for treating ITP patients who are one year of age and older. The drug is approved in more than 100 countries for chronic ITP in adults who are intolerant to other treatments. Novartis purchased the drug from GlaxoSmithKline (GSK) following its oncology products portfolio acquisition, and it holds the marketing rights for the drug.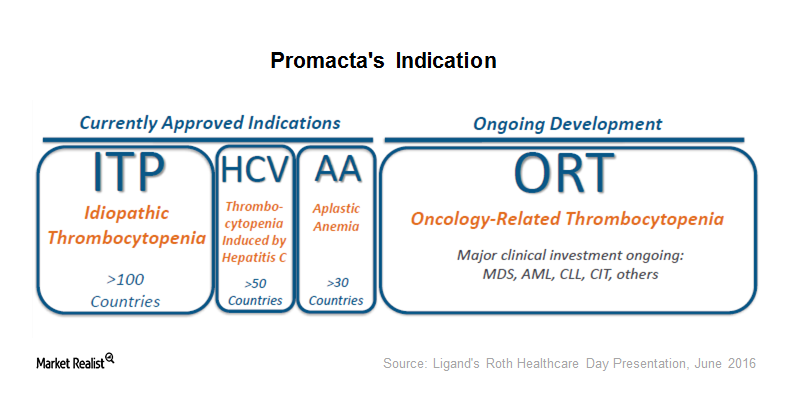 Novartis is conducting various development activities for Promacta. The label expansion efforts in the oncology area include indications such as MDS (myelodysplastic syndromes), AML (acute myeloid leukemia), and CIT (chemotherapy-induced thrombocytopenia).
Article continues below advertisement
What is ITP?
ITP is a rare disorder affecting five in 100,000 children every year. The disorder is characterized by a lower platelet count in these patients, leading to difficult-to-stop bleeding. These patients may bruise easily. The most common treatment options for the disorder include the use of corticosteroids and intravenous immunoglobulin (or IVIG).
Gilead Sciences's (GILD) Sovaldi imposes a threat to the drug as Sovaldi is indicated for treating Hepatitis C virus (HCV). Novartis notes that along with treating chronic ITP, Promacta is used for the treatment of thrombocytopenia in HCV patients where "the degree of thrombocytopenia is the main factor preventing the initiation or limiting the ability to maintain optimal interferon-based therapy."
Investors should note that investment in a high-growth company such as Ligand Pharmaceuticals can be risky. To get exposure to this company while controlling excessive company-specific risks, you can choose to invest in the SPDR S&P Biotech ETF (XBI). LGND accounts for ~2.4% of XBI's total assets.
Continue to the next part to understand another of Ligand Pharmaceuticals's key assets, Kyprolis.