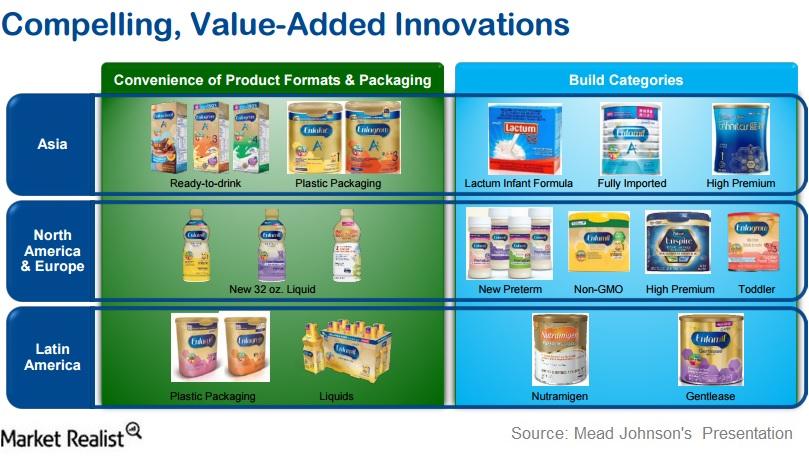 How Has Mead Johnson Grown through Innovation?
Emphasis on innovation
Mead Johnson (MJN) participated and discussed some key strategies at the Deutsche Bank Global Consumer Conference held last month. Emphasis on innovation has been a key priority for the company. Mead Johnson has made innovations to around 50% of its products in the last two years.
The company is trying to add value to products to improve volume growth with the goal of persuading consumers to pay more per serving. The company has achieved this through different strategies in different countries.
In China, the company has worked to persuade consumers to move from locally manufactured products to imported products by boosting customer confidence in the product quality and the safety of those products.
In the United States, the company has worked to convince consumers to move from powder formula to liquid formula and to move from non-hydrolyzed formula to easier-to-digest partially hydrolyzed products.
Article continues below advertisement
Article continues below advertisement
Research and development
The company spends around 2.5% of its sales, which is around $100 million a year, on research and development. The company holds its primary research center in the US with other important centers in the Netherlands, China, and Singapore.
The company's most recent innovative products include Enfinitas in China and Enspire in the US. Enfinitas is specifically customized for the Chinese market. It contains lactoferrin from the milk fat globule membrane, which is recognized to provide structural and functional benefits to infants.
Digital marketing
The company conveys information about its products to consumers through global digital marketing. It spends around 30% of its advertisement expenses on digital media. In 1Q16, investment in advertising and promotion represented 15.8% of sales.
Mead Johnson's peers like Kellogg (K) and General Mills (GIS) have made some product innovations recently. The Victory CEMP US EQ Income Enhanced Volatility Wtd Index ETF (CDC) and the iShares KLD Select Social ETF (KLD) invest around 3% in General Mills.