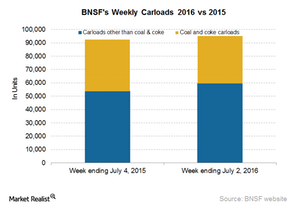 How Did BNSF's Carloads Perform against Rival UNP's?
BNSF's carloads
BNSF Railway (BRK-B) operates in the Western US, competing with Union Pacific (UNP). BNSF Railway's total railcars for the week ended July 2, 2016, rose by 2.8%, to 95,000 units compared with ~92,500 units on a year-over-year basis. In addition, BNSF reported a rise in carloads excluding coal and coke. The company's carloads went up 11.1% to nearly 60,000 railcars in the week ended July 2, 2016, from ~54,000 railcars in the corresponding week of 2015.
Article continues below advertisement
Why coal matters for BNSF
BNSF Railway's coal and coke railcars fell 9% in the week ended July 2, 2016, on a year-over-year basis. Coal transportation contributed nearly 22% of freight revenues for fiscal 2015. 90% of all BNSF's coal tons originate from the Powder River Basin (or PRB) of Wyoming and Montana.
The major coal producers operating in that area include Alpha Natural Resources (ANR) and Peabody Energy (BTU). Peabody filed for Chapter 11 bankruptcy protection in the US on April 13. Overall, environmental concerns and competition from natural gas have hampered incremental coal shipment prospects for coal producers in 2016. It seems this trend isn't going to reverse soon.
Rising and falling commodity groups
The main front runner commodities for the week ended July 2, 2016, were:
grains
motor vehicles
chemicals
non-metallic minerals
On the other hand, iron and steel scrap, waste and scrap, metallic ores, petroleum, and forest products fell during the week.
You can compare this week's rail data with data from the previous week in Why the Week Ending June 25 Was a Mixed Bag for Rail Traffic. For more information on the US's major railroad stocks (IYT), visit Market Realist's railroads page.
In the next part, we'll go through the details of BNSF Railway's intermodal traffic.