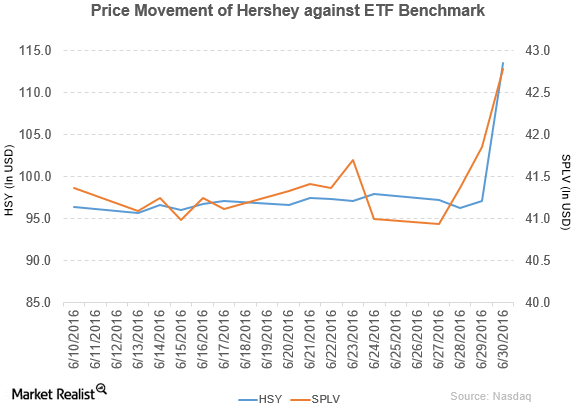 Why Did Hershey's Stock Rise on June 30?
Hershey's stock price movement
The Hershey Company (HSY) has a market cap of $24.2 billion. Its stock rose by 16.8% to close at $113.49 per share on June 30, 2016. The stock's weekly, monthly, and YTD (year-to-date) price movements were 16.9%, 22.0%, and 28.8%, respectively, on the same day. HSY is trading 18.3% above its 20-day moving average, 21.8% above its 50-day moving average, and 26.3% above its 200-day moving average.
Article continues below advertisement
Related ETFs and peers
The PowerShares S&P 500 Low Volatility Portfolio (SPLV) invests 0.95% of its holdings in Hershey. The ETF tracks a volatility-weighted index of the 100 least volatile stocks in the S&P 500. The YTD price movement of SPLV was 12.2% on June 30.
The iShares MSCI USA Quality Factor ETF (QUAL) invests 0.95% of its holdings in Hershey. The ETF tracks an index of US large- and mid-cap stocks, selected and weighted by high return on equity, stable earnings growth, and a low debt-to-equity ratio, relative to peers in each sector.
The market caps of Hershey's competitors are as follows:
Hershey rejected Mondelez International's offer
In a press release on June 30, 2016, Hershey stated, "The Hershey Company (HSY) today confirmed that it had received a preliminary, non-binding indication of interest from Mondelez International (MDLZ) to acquire the company for a mix of cash and stock consideration, totaling $107 a share of Hershey common stock. The indication of interest also included other non-monetary considerations."
Hershey rejected this $23 billion offer from Mondelez International. This transaction would have expanded Mondelez International's business and created the largest confectioner.
Article continues below advertisement
Hershey's performance in 1Q16
Hershey (HSY) reported 1Q16 net sales of $1.8 billion, a fall of 5.6% from net sales of $1.9 billion in fiscal 1Q15. It reported business realignment charges of $6.1 million in 1Q16, against $2.7 million in fiscal 1Q15.
From 1Q15 to 1Q16, due to the implementation of productivity and cost-saving initiatives, the company saved $16.6 million in unallocated adjusted corporate expenses.
Hershey's net income and EPS (earnings per share) fell to $229.8 million and $1.06, respectively, in 1Q16, compared with $244.7 million and $1.10 in 1Q15.
From 4Q15 to 1Q16, Hershey's cash and cash equivalents fell by 17.5%, and its inventories rose by 2.6%. Its current ratio fell to 0.76x, and its debt-to-equity ratio rose to 5.0x in 1Q16, as compared to 0.83x and 4.1x, respectively, in 4Q15.
Projections
Hershey (HSY) has made the following projections for 2016:
net sales growth of ~1.5%, which includes a net benefit from acquisitions and divestitures of about 0.5%
net sales growth of 2.5% on a constant-currency basis due to the unfavorable impact of ~1% from foreign currency exchange translation
reported EPS in the range of $4.16–$4.23
adjusted EPS in the range of $4.24–$4.28, including the barkTHINS dilution of $0.05–$0.06 per share
For an ongoing analysis of this sector, please visit Market Realist's Consumer Discretionary page.