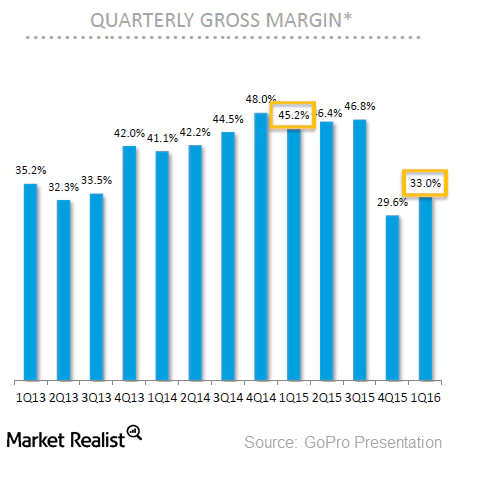 How Will GoPro's Delayed Drone Launch Affect 2016 Revenues?
Drone to be launched in 4Q16
During its last earnings call, GoPro (GPRO) announced that it had delayed the launch of Karma, its much-awaited drone. The CEO of GoPro, Nicholas Woodman, stated that in order to fine-tune its features, the company made the difficult decision to postpone Karma's launch until the holidays.
Karma was expected to drive revenues in 2016 and was expected to be launched in June 2016. Analysts believe that the delayed launch might be partially beneficial to GoPro, as drones have been a popular gift during the holiday season.
Article continues below advertisement
Article continues below advertisement
Will GoPro's impressive product portfolio stem revenue decline?
According to the NPD Group's retail tracking service, GoPro (GPRO) accounted for four out of the top five products on a unit basis in the combined digital camera/camcorder segment in the United States in 1Q16. GoPro's 1Q16 digital camera/camcorder unit share in the United States rose 150 basis points YoY (year-over-year) to 20.9%.
According to GfK, GoPro's digital imaging unit share in Europe (FEP) (EFA) rose 200 basis points YoY to 10.5% in 1Q16. The company accounted for six of the top ten camcorder sales in Europe on a unit basis.
GoPro has been affected by falling profit margins driven by declining sales. The company's gross margin fell from 45.2% in 1Q15 to 33% in 1Q16. GoPro could post its first annual decline in sales in 2016.