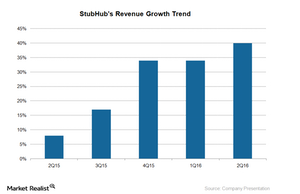 Why eBay's StubHub Is the New Growth Engine
2Q16 marked another strong quarter for StubHub
StubHub is eBay's (EBAY) fastest-growing business. The unit generated $1.1 billion by gross merchandise volume, a rise of 35% YoY (year-over-year) in 2Q16. Revenues rose 40% YoY to $225 million.
The improvements in the user experience include ticket recommendations and new pricing displays, coupled with strength across multiple genres. These factors helped the segment to post strong growth during the quarter. The chart below shows the robust revenue growth trend of StubHub business.
StubHub is the largest ticket marketplace in the United States (SPY). It's a platform where buyers and sellers meet and trade thousands of tickets for live events.
Article continues below advertisement
StubHub notes that it provides "best value offering" and "instant relisting" options to streamline the process of ticket buying and reselling. Buyers or sellers can get the best offer listing based on their search parameters. They also have the option to resell the same ticket immediately after buying.
Users can recycle the process of buying and selling tickets multiple times, as the company benefits from each transaction by charging a booking fee.
How eBay plans to grow the StubHub business
eBay announced its intent to acquire Ticketbis, a Spain-based online ticket marketplace, to expand the reach of StubHub's global footprint. However, the financial terms of the deal were not disclosed.
Ticketbis, which has a presence in 47 countries, will become part of StubHub's business. It will help eBay to expand StubHub in Latin America, Europe, and Asia-Pacific. StubHub currently operates in the US, the UK (EWU), Canada, Mexico, Germany, and France.
Moreover, eBay also plans to acquire Ticket Utils, which will help the company to offer sellers enhanced tools in order to better manage their inventory. In June, StubHub inked a revenue-sharing deal to resell tickets for the New York Yankees.
Given the segment's strong performance coupled with measures to expand its global footprint, StubHub has the potential to be the next PayPal (PYPL), which will contribute meaningfully to the company's revenue growth in the future.