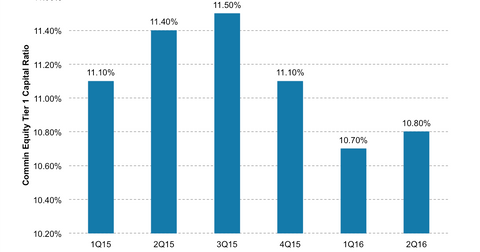 Deutsche Bank's Capital Levels Fail to Meet Regulatory Requirements
By Rebecca Keats

Aug. 1 2016, Updated 8:06 a.m. ET
Deutsche Bank failed 2016 stress tests
Deutsche Bank (DB) is proving to be the most dangerous bank to the global economy after it failed the Federal Reserve's stress tests in June 2016. The bank's stock has declined by 45% in 2016 so far, and capital reserves remain important in the restoring the confidence of regulators and investors.
To make matters worse, the IMF (International Monetary Fund) has labeled DB the riskiest bank to the global economy after it failed to meet its 2016 capital requirements. Deutsche Bank CEO John Cryan said, "We have continued to de-risk our balance sheet, to invest in our processes and to modernize our infrastructure," adding that "if the current weak economic environment persists, we will need to be yet more ambitious in the timing and intensity of our restructuring."
Cryan has been shrinking risky businesses, cutting down on staff related costs, and cutting dividend payments to boost capital levels.
Article continues below advertisement
A closely tracked measure of financial strength, the Common Equity Tier 1 Capital ratio, rose to 10.8% for DB in June from 10.7% the previous quarter. This ratio is further expected to rise once the sale of its 20% stake in Chinese lender Huaxia Bank is complete. That transaction will be completed in 2H16, adding about 40 basis points to the bank's capital ratio, according to a company statement.
Deutsche Bank has set a target of 12.5% for Common Equity Tier 1 ratio by the end of 2018. While its Tier 1 capital is still within the current regulatory minimum, it's below the ratio required by 2019. Notably, European counterparts (EUFN) (XLF) Credit Suisse (CS), UBS, and Royal Bank of Scotland (RBS) have been struggling to build capital reserves to meet regulatory requirements.