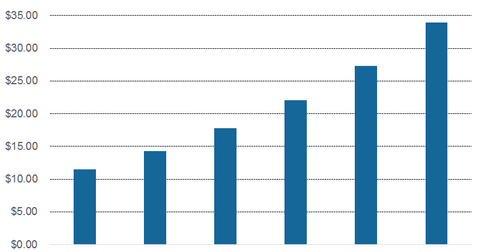 How Dell Can Enter the Converged Infrastructure Market with EMC
By Adam Rogers

Updated
Cisco Systems' joint venture with EMC and VMware
As stated earlier in this series, Dell specializes in serving small and midsize customers, and EMC serves enterprise customers. With Dell's acquisition of EMC, the former can combine its expertise in the server business with EMC's expertise in the storage business to sell a converged infrastructure solution in the data center segment.
Shamus McGillicuddy, an analyst at Enterprise Management Associates, stated, "I am sure Dell will try to maximize opportunities for selling its switches through VCE."
Article continues below advertisement
In 2009, Cisco Systems (CSCO), EMC (EMC), and VMware (VMW) entered into a joint venture known as VCE (VMware, Cisco, and EMC). This joint venture was created to establish a converged infrastructure for data center consolidation, IT-as-a-service, and cloud computing. VCE offers enterprises IT and cloud solutions using VMware's, Cisco's and EMC's expertise in virtualization, networking, and storage, respectively.
Since the joint venture was established in 2009, Cisco has reduced its stake in VCE to 10% from 35%, and EMC has adopted VCE as an in-house business.
Converged infrastructure market expected to reach $33.9 billion by 2019
According to MarketsandMarkets, the converged infrastructure segment is expected to grow at a CAGR (compound annual growth rate) of 24.1% between 2014 and 2019. The firm forecasts this business will grow from $11.5 billion to $33.9 billion over the same period.
MarketsandMarkets stated the key drivers for this segment are aligning IT according to business requirements, rapid growth of cloud services, and the aging of traditional data centers.
In the next article in this series, we'll discuss how the Dell-EMC merger aims to penetrate the enterprise storage space.