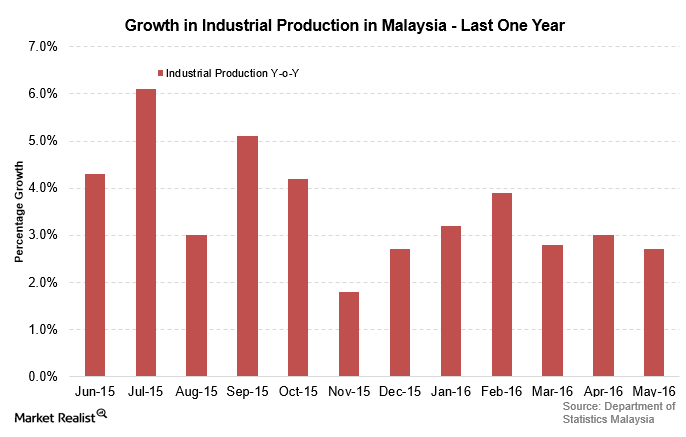 Central Bank of Malaysia Cuts Rates by 25 Basis Points
<p>The Central Bank of Malaysia unexpectedly reduced the benchmark interest rate by 25 basis points to 3% on July 13—bringing the rates to two-year low levels.</p>
Malaysian central bank cuts rates
The Central Bank of Malaysia unexpectedly reduced the benchmark interest rate by 25 basis points to 3% on July 13—bringing the rates to two-year low levels. The central bank reduced the inflation expectations for the current year from 2.5%–3.5% to 2.0%–3.0%, citing growth concerns due to uncertainties in the global economy. Other South Asian economies including Indonesia, Singapore, and India also eased their monetary policy along with Malaysia to maintain stability amid tumultuous market conditions.
Article continues below advertisement
Article continues below advertisement
What drove the sudden monetary easing?
The United Kingdom's referendum is an important factor. It drove a cut in interest rates in South Asian economies. Industrial production for May recorded growth of 2.7% on Tuesday on an annual basis—compared to a 3.0% rise the previous month. The GDP for the Malaysian economy was recorded at 4.2% in 1Q16—compared to 5.7% growth in the same quarter last year. The iShares MSCI Malaysia ETF (EWM) was trading slightly higher by 0.12%, while other Asian peers were trading negatively on July 13 at 1:30 PM EST. The iShares MSCI All Country Asia ex Japan ETF (AAXJ) was trading lower by 0.30%.
Australian consumer sentiment index declines
The Consumer Sentiment Index reported by the Westpac Banking Corporation, Melbourne Institute fell by 3% on a monthly basis for July to 99.1—compared to 102.1 in the previous month. The economic outlook was observed to be on a declining trend for the next year, while the long-term five-year outlook seemed to be stable. The iShares MSCI Australia ETF (EWA) was trading on a relatively flat note at 1:30 PM EST on July 13, while the Vanguard FTSE Pacific ETF (VPL) fell by 0.24%. The iShares MSCI Emerging Markets ETF (EEM) was trading lower by 0.27%.