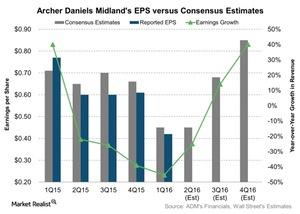 What Could Cast a Shadow over Archer Daniels Midland's 2Q16 EPS?
Earnings per share
In Part 3, we discussed the revenue estimates for Archer Daniels Midland (ADM) for fiscal 2016. Now, let's look at analysts' EPS estimates and management's guidance for 2016.
Article continues below advertisement
Massive decline expected in 2Q16
Analysts expect Archer Daniels Midland's adjusted EPS in 2Q16 to be $0.45—compared to $0.60 in 2Q15. It represents a massive decline of 25%. In the above chart, you can see that the company missed analysts' expectations in the last four quarters. Management expects macroeconomic headwinds that it faced in 2015 to persist throughout most of 2016. This will impact the company's performance.
Guidance for 2016
Archer Daniels Midland didn't provide any particular guidance for its earnings in 2016. It expects the acquisitions completed in 2015 to benefit its earnings. It completed the Eaststarch acquisition at the beginning of November 2015. It's projected to be accretive to earnings in 2016. Management mentioned in its last earnings call that the company continues to execute its strategic plan to grow its earnings power. Ultimately, it will transform into stronger earnings when conditions stabilize. Archer Daniels Midland expects to achieve $1.0–$1.50 per share in earnings improvements over the medium term in 2016.
Article continues below advertisement
Analysts' expect earnings to decline in the first two quarters of fiscal 2016. However, they expect the earnings to bounce back in the second half of 2016. The EPS in 3Q16 and 4Q16 is projected to grow by 14% and 40%, respectively. For fiscal 2016, earnings will likely show a decline of 7% from 2015.
Earnings estimate for peers
Archer Daniels Midlands' peers in the industry include General Mills (GIS), J.M. Smucker (SJM), and Snyder's-Lance (LNCE).
General Mills' EPS for fiscal 1Q17 is expected to fall by 2%.
J.M. Smucker's EPS for fiscal 1Q17 is expected to rise by 30%.
Snyder's-Lance's EPS for fiscal 2Q16 is projected to fall by 5%.
To gain exposure to General Mills, you can invest in the Victory CEMP US EQ Incom Enhanced Volatility Wtd Index ETF (CDC) and the PowerShares S&P 500 Quality Portfolio (SPHQ). They invest ~3% of their portfolios in General Mills.