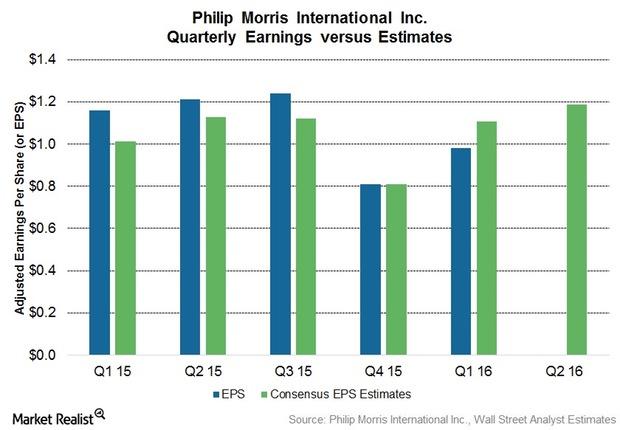 Can Philip Morris Beat Its 2Q16 Earnings Expectations?
2Q16 earnings expectations
Philip Morris's (PM) 2Q16[1. ended June 30, 2016] earnings will be announced on July 19, 2016. The Wall Street consensus analyst expectation for the adjusted diluted EPS (or earnings per share) in 2Q16 is $1.19 per share.
For 2Q16, the consensus estimate represents a 5.1% increase compared to adjusted diluted EPS of $1.12 in 2Q15.
Philip Morris's adjusted diluted EPS (or earnings per share) fell by 15.5% to $0.98 per share in 1Q16 versus $1.15 in 1Q15. However, excluding an unfavorable currency impact of $0.19, adjusted EPS rose by 0.9% compared to 1Q15.
Article continues below advertisement
Article continues below advertisement
Earnings decline versus peers
The decline in Philip Morris's diluted earnings for 1Q16 resulted from the strengthening of the US dollar against virtually all key operating currencies. The Indonesian rupiah, Japanese yen, and Russian ruble were the principle drivers of the variance. Also, incremental investments, which were concentrated in 4Q15 and 1Q16, resulted in decreased earnings.
However, the adjusted diluted earnings grew by 14.3% to $0.72 per share for Altria Group (MO) in 1Q16. Vector Group's (VGR) diluted EPS came in at $0.16 in 1Q16.
Reynolds American's (RAI) adjusted diluted earnings rose by 16.3% to $0.50 per share in 1Q16. Adjusted earnings benefited from higher volumes and pricing across the board.
Expected EPS in 2016
During its 1Q16 earnings report, Philip Morris increased its 2016 reported earnings per share by $0.15 to a range of $4.40–$4.50 at prevailing exchange rates. This includes $0.45 of unfavorable currency impact with a growth rate of 10%–12% compared to diluted EPS of $4.42 in 2015. The company expects its 2016 adjusted diluted EPS to be skewed toward 2H16 and 4Q16 in particular.
On July 9, 2016, Philip Morris (PM) comprised 0.8% of the SPDR S&P 500 Value ETF (SPYV).
In the coming parts of this series, we'll discuss the impact of foreign currency on the wide geographic spread and the 1Q16 margin recap.