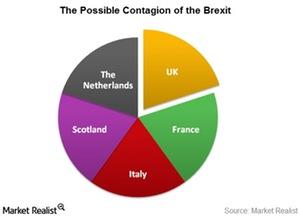 Is the Brexit Vote the Beginning of a Movement?
Is Brexit the beginning?
Popular opinion holds that the Brexit referendum has opened the gates for other such votes in the future. Wall Street is abuzz with news and opinions related to the possibility of a contagion to other European Union member countries.
The weaker European (VGK) (DBEU) (IEV) countries, as well as countries seeking greater independence in decision-making, are particularly vulnerable.
Article continues below advertisement
The possible contagion effect
Deirdre Bolton of Fox Business Network appeared on the network's Wall Street Week program a day after the Brexit referendum occurred. On June 24, Bolton noted that France (EWQ), Italy (EWI), and the Netherlands (EWN) are already reconsidering the European Union structure.
News of France's National Front issuing a call for "Frexit" and Dutch populist Geert Wilders promoting a "Nexit'" has already cautioned investors who follow Wall Street, particularly those who are invested in these economies.
What could happen next?
The potential need for further votes stems from the need of many EU member countries to make certain decisions independently. When any of these countries need to make a decision, they must approach the European Union. On many occasions, this leads to delayed decision-making.
Scotland could be expected to make another attempt at securing its independence from the European Union. Its earlier attempt did not succeed. On September 18, 2014, Scotland's voters voted "yes" or "no" to the question: "Should Scotland become an independent country?"
The majority of the votes favored the "No" campaign. Please read Why you should care about Scotland's referendum as an investor for our detailed analysis and coverage of the 2014 Scottish independence referendum.