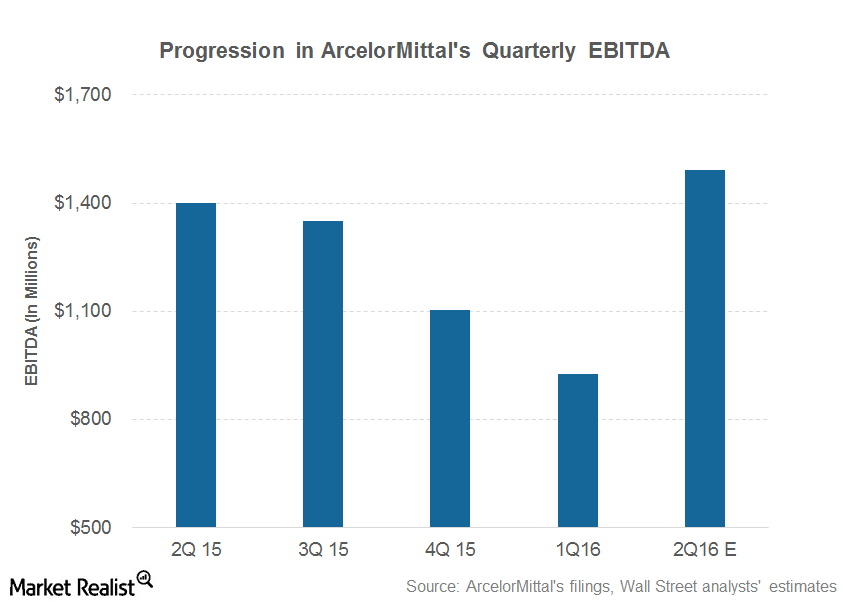 Are ArcelorMittal's 2Q16 Earnings Estimates a Little Aggressive?
ArcelorMittal's 2Q16 earnings
There are several metrics that you can use to measure a company's profitability. However, for companies in the commodities space (GCC), EBITDA[1. earnings before interest, tax, depreciation, and amortization] is generally used. According to consensus estimates compiled by Bloomberg, ArcelorMittal (MT) is expected to post an EBITDA of ~$1.4 billion in 2Q16.
To put this in context, ArcelorMittal (MT) posted adjusted EBITDA of $927 million in 1Q16 and ~$1.4 million in 2Q15. Analysts are expecting ArcelorMittal's 2Q16 EBITDA to increase on a year-over-year basis as well on a sequential quarterly basis.
Article continues below advertisement
Article continues below advertisement
Peer companies
Looking at other steel producers, both Nucor (NUE) and Steel Dynamics (STLD) posted a significant increase in their respective 2Q16 EBITDA readings. However, it's also important to note that both NUE and STLD get almost all of their revenues from the US market. The US flat rolled steel market has been on a fire this year with spot prices rising by ~65% year-to-date.
MT gets only about a quarter of its revenues from NAFTA.[2. North American Free Trade Agreement] Steel prices in Europe (VGK), which is ArcelorMittal's biggest market in revenue terms, have not risen commensurate with the big spike in US steel prices.
Aggressive estimates?
The current analyst EBITDA estimates could turn out to be a little aggressive. Also, it's important to note that the full impact of higher spot steel prices might not fully reflect in MT's 2Q16 earnings. It could take another couple of quarters for higher spot steel prices to fully reflect in MT's earnings.
Meanwhile, during their 1Q16 earnings conference call, MT had not raised its 2016 guidance despite higher spot steel prices.
In the final part of this series, we'll explore whether the company could raise its 2016 guidance during the upcoming 2Q16 earnings call.