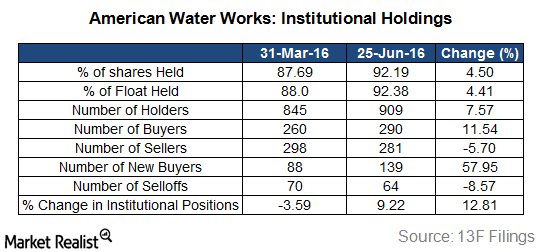 What Do Institutional Investors Think about American Water Works?
Institutional holdings
Institutional investors increased their positions in American Water Works (AWK) in 2Q16 as compared to where they stood on March 31, 2016. The percentage of float held in American Water by institutional investors rose by 4.5% in the second quarter, as compared to March 31. The float of a company is the number of shares that are available for trading.
Article continues below advertisement
Are institutions still positive about AWK?
The long position additions of institutional investors mostly depict market bullishness on a stock and vice versa. For AWK, the number of buyers increased by a huge 12% in 2Q16 while the number of sellers fell by 6% in the same period over 1Q16. The number of new buyers rose by 58%, and the number of sell-offs took a dip by 9%.
The percentage of float held by institutional investors in AWK has increased from 88% at the end of 1Q16 to 92% as of June 25, 2016. BlackRock, Vanguard, and State Street are the top three institutions holding American Water Works as of June 25, 2016.
The growing positions of institutional players in American Water Works indicate institutional investors' increased interest in the stock. The long position additions in 2Q16 kept AWK's rally going. It soared more than 20% in the second quarter. Fair yields and stable earnings growth are keeping investors in safe-haven water utilities (PHO)(CGW).
American Water Works has already surged more than 40% so far this year. So, at this point, analyzing institutional investor sentiment can offer good insight into the stock.