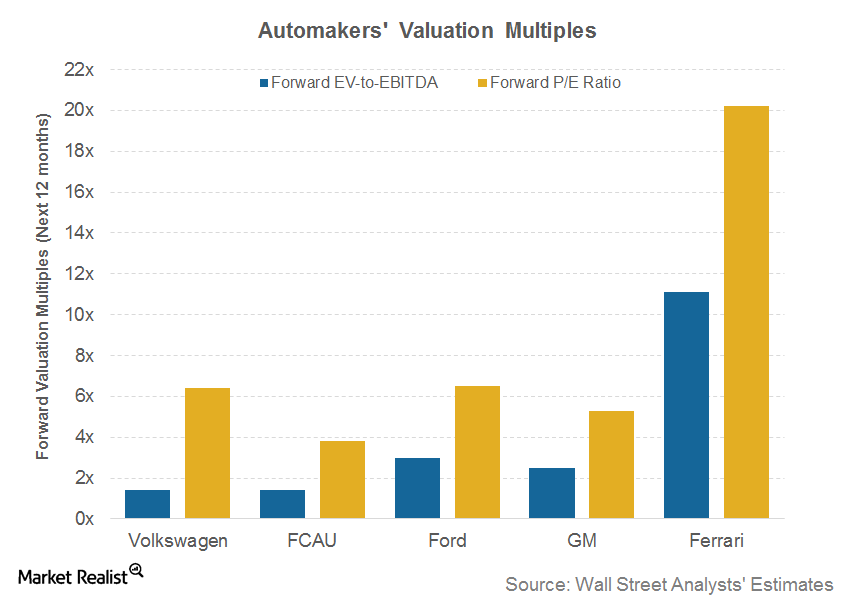 Analyzing Ferrari's Valuation Multiples ahead of 2Q16 Earnings
Valuation multiples
Investors should also pay close attention to valuation multiples when deciding whether to enter or exit a stock. While there are a variety of valuation multiples available, we'll use the forward EV-to-EBITDA (enterprise value to earnings before interest, tax, depreciation, and amortization) multiple in this article. A forward EV-to-EBITDA multiple tells us how a business is valued for each dollar of EBITDA.
Article continues below advertisement
Ferrari's valuation multiples
As of July 18, 2016, Ferrari's (RACE) forward EV-to-EBITDA multiple is 11.1x. This multiple is much higher than that of mainstream mass market automakers (RWL) General Motors (GM), Ford (F), and Volkswagen (VLKAY). This multiple is calculated based on the estimated EBITDA of the respective companies for the next 12 months.
Likewise, Ferrari's forward PE (price-to-earnings) multiple is trading at 20.2x, which is also much higher than that of the legacy automakers. This is based on the company's earnings estimates for the next 12 months.
What factors could affect Ferrari's valuation multiples?
Ferrari has a stable business model with a proven track record of positive cash flows. The company doesn't require a high amount of capital reinvestment for future earnings growth. The strategy of exclusivity also helps the company to remain highly profitable.
Moreover, the Market should remain focused on factors such as quality and sustainability of growth. Any revision by investors and analysts in Ferrari's long-term growth expectations is likely to drive its valuation multiples.
Currently, Ferrari is going through a tough phase, where the sales of its more profitable supercars equipped with the V12 engine are declining. A continuation of this declining trend may negatively affect its future earnings growth estimates and might drive Ferrari's valuation multiples lower.
In the final part of this series, we'll take a look at some key technical price levels for Ferrari's stock.