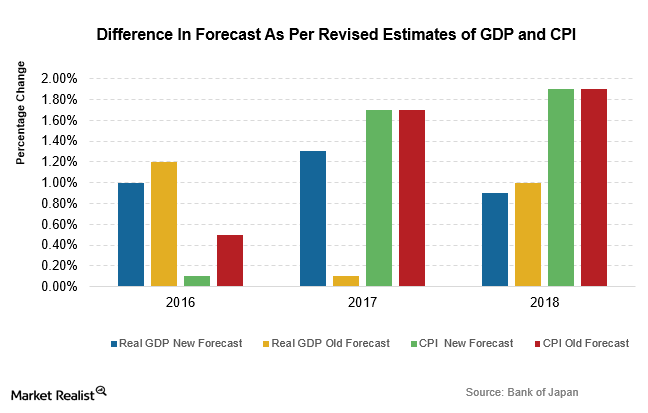 What Are the BoJ's Projections for Economic Activity in Japan?
BoJ's view on the economy and inflation
The BoJ (Bank of Japan) gave its economic outlook after the monetary policy meeting on July 29, 2016. The BoJ thinks that the Japanese economy is still in a moderate recovery trend despite the recent weak data. The weak data are attributed to the slowdown in emerging economies. The CPI (consumer price index) would remain in near zero territory for the short term due to a fall in energy prices. Inflation is expected to reach near target levels of 2% in 2018. The median inflation projections for the CPI were revised down to 1.7% in 2017 and 1.9% in 2018. To get a better idea of the projections, it's important that we look at the underlying assumptions. The major assumptions include the BoJ continuing with current negative rates, other global economies remaining subdued, an increase in public investment in Japan, and firms and households' growth expectations rising moderately.
Article continues below advertisement
Article continues below advertisement
Household spending and CPI are below the forecast
The Statistics Bureau of Japan had a packed economic release schedule on July 29 ahead of the monetary policy release. The year-over-year household spending fell by 2.2% against the forecasts of a modest fall of 0.4%. There were multiple CPI releases in terms of the Tokyo core CPI and the National core CPI. The Tokyo core CPI fell by 0.4%, while the National core CPI fell by 0.5%.
Market movements ahead of the BoJ meeting
Looking at the performance of the broad-based Asian ETFs ahead of the BoJ meeting, the iShares MSCI All Country Asia ex Japan (AAXJ) and the iShares MSCI Pacific ex Japan ETF (EPP) rose by 0.09% and 0.10%, respectively, on July 28.
Japanese ADRs (American depositary receipts) on US exchanges were trading on a mixed bias. Leisure goods maker Sony (SNE) rose by 0.95% on July 28, 2016. In the banking arena, Mitsubishi UFJ Financial (MTU) fell by a significant 1.5%, while Sumitomo Mitsui Financial Group (SMFG) fell by 1.2%.