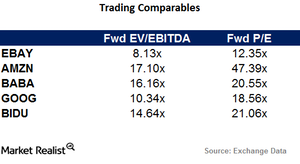 How Amazon Compares to Its Peers
<p>In this part of the series, we&#8217;ll discuss why investors shouldn&#8217;t worry about Amazon&#8217;s (AMZN) lofty valuations compared to those of its peers.</p>
Amazon trades at higher multiples than its peers
In this part of the series, we'll discuss why investors shouldn't worry about Amazon's (AMZN) lofty valuations compared to those of its peers.
Amazon's key valuation multiples, such as enterprise value when scaled by forward adjusted EBITDA (earnings before interest, tax, depreciation, and amortization) and forward PE (price-to-earnings), are higher compared to our set of select Internet companies eBay (EBAY), Alibaba (BABA), Google (GOOG), and Baidu (BIDU). Adjusted EBITDA excludes non-recurring charges such as impairments.
While Amazon's multiples are higher than the group average, eBay is trading at fairly low multiples.
Article continues below advertisement
Article continues below advertisement
Amazon is a clear market leader in the e-commerce space
Amazon's customer-centric business model and its long-term approach to growth and the expansion of its business and offerings have helped it to evolve as the market leader in the e-commerce space. Amazon's revenue has risen at a CAGR (compound annual growth rate) of 22% in the past five years, thanks to its flourishing e-commerce sales, which have been driven by its Amazon Prime membership growth.
The company is witnessing strong growth in its number of Prime memberships. This is crucial for its growth, as Prime benefits Amazon in a number of ways. Prime gives Amazon a competitive edge over its rivals by keeping its memberships intact owing to exclusive deals, videos, and fast and free shipping.
Amazon continues to increase its investments in the right areas and expand into emerging markets to generate higher growth. A growing number of third-party sellers on Amazon Marketplace and the popularity of the Prime membership program are expected to drive the company's growth in the coming years.
AWS holds a formidable lead in the cloud market
Amazon has been successful in managing and growing its cloud business. Its AWS (Amazon Web Services) segment has witnessed stellar growth in the past few years.
As demand for cloud computing services and applications gathers steam, AWS remains well positioned to leverage the fast-growing cloud services market. However, big technology companies are also pouring billions of dollars into their cloud businesses and have ramped up their efforts in the cloud space. Despite stiff competition, AWS has evolved to keep its lead.