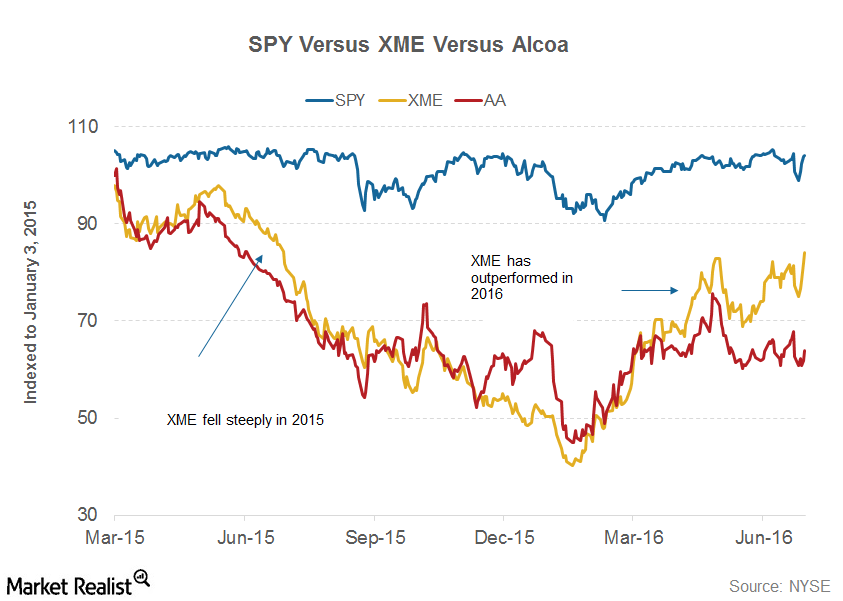 Alcoa's 2Q16 Earnings: What Can Investors Expect?
Alcoa's 2Q16 earnings
Alcoa (AA) has a legacy of kicking off earnings season. The company is expected to release its 2Q16 earnings on July 11. Alcoa's earnings are closely tracked by analysts who cover the metals and mining industry.
The mining sector has performed well in the stock markets this year. The SPDR S&P Metals and Mining ETF (XME), which seeks to build a diversified portfolio of US-based metals and mining companies, has outperformed the broader markets so far in 2016. Companies like Century Aluminum (CENX) and U.S. Steel (X) are trading with strong year-to-date returns.
However, if we look at the returns since the beginning of 2015, XME has underperformed the broader markets, as represented by the SPDR S&P 500 ETF (SPY).
Article continues below advertisement
Article continues below advertisement
Alcoa's split
Alcoa hasn't really participated in the mining rally this year. However, Alcoa is much more than a mining company now. The company is in the final stages of its split, which will create two new entities. Alcoa recently filed form-10 related to its split. You can read more about this in Alcoa Files Form-10: Should Investors Care?
Series overview
Though Alcoa's split has been a key driver of its price action this year, investors should also keep track of the company's quarterly results. In this series, we'll explore analysts' expectations for Alcoa's 2Q16 earnings. We'll also look at the 2Q16 guidance Alcoa's management provided during its 1Q16 earnings call.