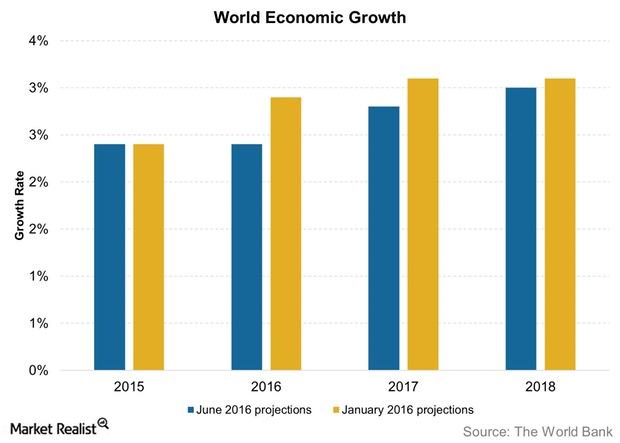 The World Bank Has News about the Global Economy, and It's Not Good
Global Economic Prospects report, 25th edition
The World Bank has reached the 25th year of the publication of its Global Economic Prospects report. But the institution did not have many good things to say about the global economy this year.
The World Bank expects the global economy (VT) to grow by 2.4% in 2016, which is 0.5 percentage points below the projection it made in January. For 2017, the bank now expects the global economy to grow by 2.8%, which is 0.3 percentage points lower than its January 2016 estimates.
Article continues below advertisement
Increased risks
The World Bank assessed that since the release of the January edition of its Global Economic Prospects, weakness has continued to haunt the global economy while risks to global economic growth have increased.
The report shows that some of the downside risks outlined in the January report have already happened. These include lower-than-expected growth in advanced economies and further declines in commodities prices. The report, which has considered data up to May 2016, was quick to point out that some of the declines in commodities have reversed in recent months. The following factors have been of concern as well:
increased political uncertainty
the effectiveness of monetary policies in some advanced economies
the pace of monetary policy normalization in the US
the ability and willingness of policymakers to ease fiscal policy
Impact on your investments