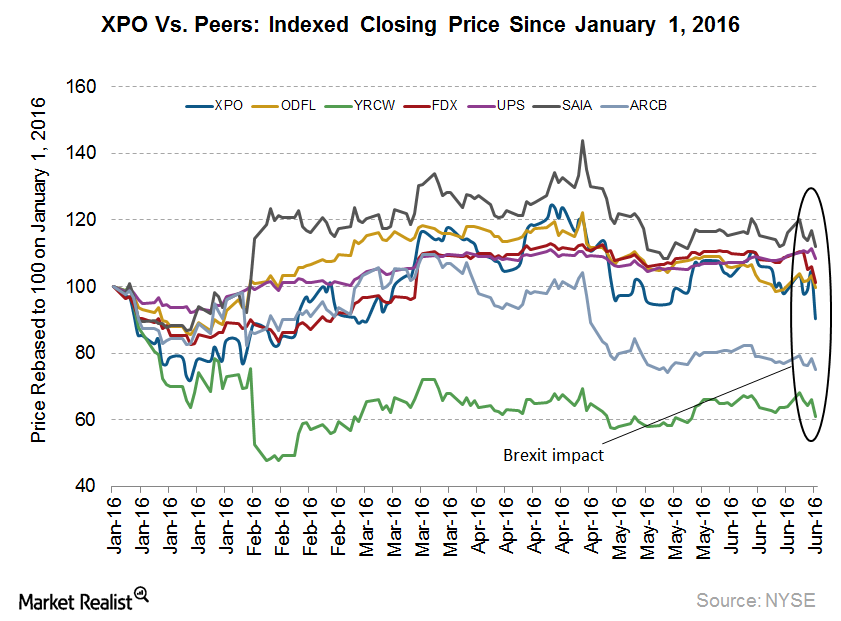 Will Brexit Continue to Impact XPO Logistics?
XPO Logistics' stock price reaction
In the above graph, you can see that Brexit impacted XPO the most in the peer group.
Article continues below advertisement
Brexit's impact on XPO Logistics
XPO Logistics is a leading provider of supply chain solutions in North America. The company increased its European presence with the acquisition of Norbert Dentressangle in 2015. Norbert Dentressangle is headquartered in Lyon, France. Its revenue was 5.1 billion euros in 2014. The company is a global provider of contract logistics including e-commerce fulfilment, freight brokerage and transportation, and global forwarding services.
Norbert revenues account for ~35% of XPO's total revenues—this is significant. Even XPO receives ~12% of its revenues from operations in the United Kingdom. In this situation, the complete integration of Norbert with XPO would pressure XPO's cash flows. Old Dominion Freight Line and FedEx witnessed declining tonnage in the LTL space. XPO wasn't an exception.
How can it hurt XPO more?
The United Kingdom's exit from the European Union entails renegotiating current trading agreements with other European countries including France. It might result in increased trade tariffs. This could lead to lower movement of cross-border merchandise. With contracting exports, the demand for contract logistics may go down more. With the potential increase in regulations across borders, the carriers' operating efficiency might go down. This would impact the margins.
Prominent US railroads (CSX) and airlines account for 5.1% and 4.7% of the iShares U.S. Industrials ETF (IYJ).
In the next part, we'll see why FedEx was down compared to United Parcel Service.