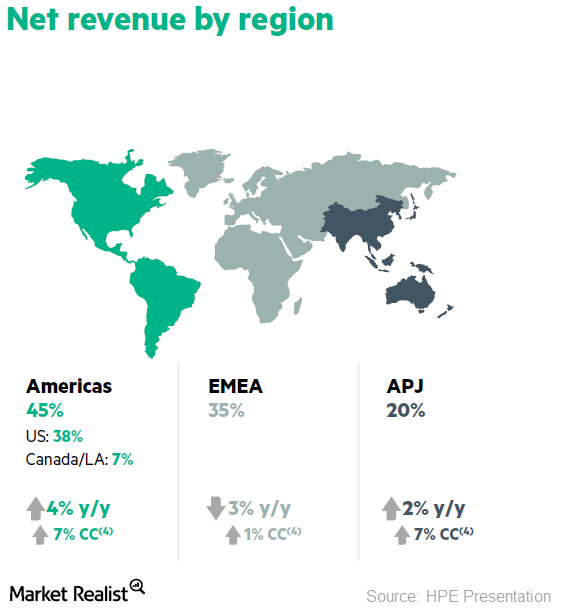 Why Hewlett-Packard Enterprise Fell on Brexit News
EMEA accounts for 35% of total revenues for HPE
On Friday, Hewlett-Packard Enterprise (HPE) shares fell 7.6% on news of the United Kingdom deciding to leave the European (FEP)(EFA) Union—the Brexit. According to Investopedia, US firms have "derived 9% of global foreign affiliate profit from the United Kingdom since 2000." In 2014 alone, US companies invested approximately $588 billion into the country.
Moody's lowered its debt rating on the United Kingdom from "stable" to "negative."
As the chart below shows, Hewlett-Packard Enterprise derived 35% of its total revenues from the EMEA (Europe, the Middle East, and Africa) region in fiscal 2Q16. This percentage is significant, so the stock fell almost 8% on Friday, driven by investor concerns.
Peer companies Guidewire Software (GWRE) and Benefitfocus fell 5.1% and 6.6%, respectively.
Article continues below advertisement
Last month, HPE stated in a memo, "We believe that if the U.K. were to leave the EU it would be likely to have a detrimental impact on the long-term prospects for employment, research, investment and innovation in this country. Combined with its particular capabilities as a global financial and legal center and the strength of the U.K.'s academic institutions, these benefits have made the U.K. an attractive investment location for multinational companies like HPE."
HPE forward PE and analyst recommendations
As of June 24, HPE was trading at a forward PE (price-to-earnings) multiple of ~8.9x versus the industry average of 20.6x. In the trailing 12-month period, the company's PE has been 14.9x. Notably, the company is trading at a lower PE than EMC (EMC) and NetApp (NTAP), which have PE multiples of 14.4x and 10.2x, respectively.
Of the 29 analysts covering Hewlett Packard Enterprise, 13 have "buy" recommendations, one has a "sell" recommendation, and 15 have "hold" recommendations. Analysts' stock price target for the company is $20.50, with a median target estimate of $20. Hewlett Packard Enterprise is trading at a discount of 10.1% to its median target.