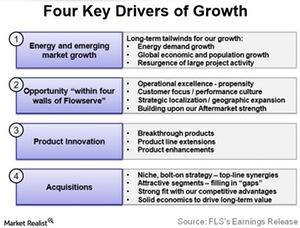 Why Do Customers Buy Flowserve's Products?
By Jessica Stephans

Jun. 14 2016, Updated 7:19 p.m. ET
Flowserve's core strengths
According to Flowserve's (FLS) management, the "fluid control equipment industry" is highly competitive. FLS stands out with its strong product portfolio and its continued focus on research and development. According to FLS's management, this focus has helped the company build lasting customer relationships.
After 4Q15, FLS reported that it controlled a market share of 4% of the $130-billion pump, valve, and seal market in 2015. These gains in market share can be attributed to overall global growth in addition to the company's strategy to bundle its product services.
Article continues below advertisement
To satisfy customers' growing need for "bundled services," FLS has combined the sale of its pumps, valves, and seals. The company has built 195 quick-response centers near its main customers' facilities to provide swifter turnarounds of repairs and a ready supply of aftermarket parts and services. By extending reliable aftermarket services and distinctive customer propositions, FLS's management expects to gain further market share going forward.
Flowserve's strategy and core strength
FLS's growth strategy is to focus on customer requirements to gain more market share. According to company management, FLS's core strength lies in identifying and addressing customer requirements. It then provides the customers with reliable and high-performance products, which is an expression of its commitment to continuous technology development and innovation.
Acquisitions and competitive advantages
Flowserve also targets inorganic growth through acquisitions that can be quickly incorporated into its network, installed base, global manufacturing, and sales footprints. Specifically, FLS targets acquisitions that are EPS (earnings per share) accretive and have high IRR (internal rates of return).
Between 2010 and 2015, FLS's revenues have tripled. By comparison, Graco's (GGG) revenues grew by 1.7x to reach $1.2 billion during the same period. Emcor Group's (EME) revenues grew by 1.3x during the same period, reaching $6.7 billion in 2015, and Pentair's (PNR) revenues grew by 2.1x, reaching $6.4 billion the same year.
On a year-over-year basis as of May 20, 2016, both FLS and the S&P 500 ETF Index (SPY) declined by 19.5% and 3.6%, respectively. On a year-to-date basis as of the same date, FLS hs increased by ~10.7%, as compared to SPY, which has increased by 2.5% during the same period.
Continue to the next part for a look at Flowserve's recent stock performance.