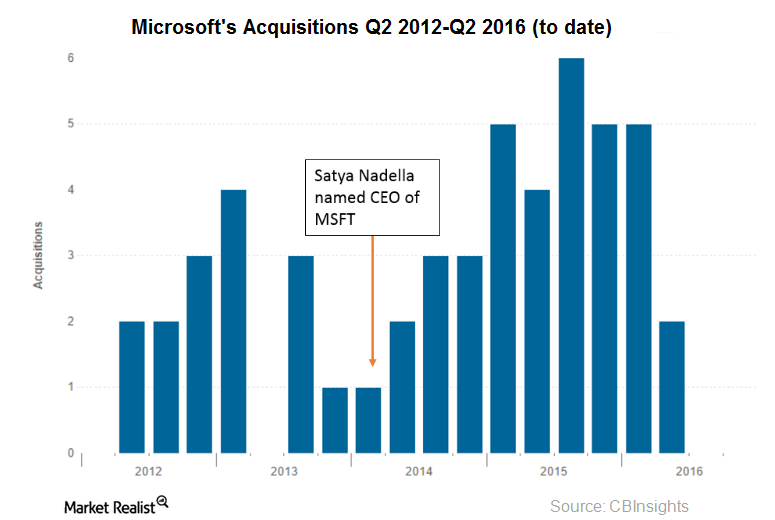 Why Decline in LinkedIn Stock Made It a Potential Target
LinkedIn stock's continued decline made it a potential target
Earlier in the series, we discussed Microsoft's (MSFT) offer to acquire LinkedIn (LNKD). LinkedIn stock, which has been on the decline in 2016 to date, rose approximately 50% after Microsoft's offer. LinkedIn's stock, which traded at $269 in February 2015, fell to one of its lows of $101.11 in February 2016. In February 2016, the company issued weaker-than-expected 2016 guidance, which caused its shares to fall by ~44%. Tableau Software (DATA) also reported weak earnings and a weak 2016 outlook, which along with LinkedIn's guidance exacerbated the downfall in tech and cybersecurity stocks.
Article continues below advertisement
Though the stock has made a recovery since its fall in February 2016, as the below share price chart shows, it hasn't been able to reach the highs it recorded in 2015. The fall in LinkedIn stock made it a likely target for acquisitions. Though Microsoft's offer price is approximately 50% higher compared to LinkedIn's share price, it's still well below the highs LinkedIn stock reached in 2015.
LinkedIn's earnings quality
On a GAAP basis, LinkedIn (LNKD) has negative earnings, primarily due to excessive stock-based compensation, which is expected to be approximately $580 million in 2016. Last year, the company paid ~$510 million as stock-based compensation, which amounts to ~96% of operating income or about 16% of the company's revenue. Other companies in this space like Google (GOOG), Amazon (AMZN), and Facebook (FB) pay approximately 15% of operating income or 10% of revenues as stock-based compensation.
Article continues below advertisement
Most analysts agree that the higher a company's dependence on stock-based compensation, the lower the quality of its earnings. Mark Mahaney, a technology analyst with RBC Capital Markets, feels the same. He points out that LinkedIn, Yahoo, Alibaba (BABA), and Twitter have low earnings quality due to their overdependence on stock-based compensation. Thus, being acquired appears to be the best deal for LinkedIn.
LinkedIn also appealed to Microsoft, as it offers strategic benefits. Microsoft is one of LinkedIn's biggest customers. As we have discussed in the prior parts of the series, LinkedIn is likely to give a boost to Microsoft's Office 365, give it access to the social networking space, and reduce its tax bill. The decline in LinkedIn's shares and its lowered valuation added to its appeal as an acquisition target for Microsoft.
For diversified exposure to select software companies in the United States, you could consider investing in the SPDR S&P 500 ETF (SPY). This ETF has 8% exposure to the application software industry.