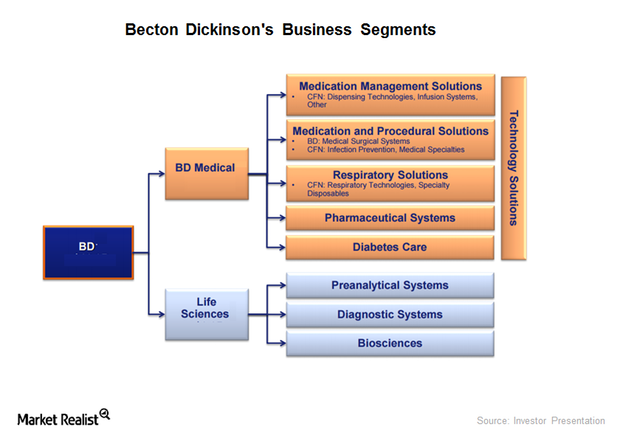 What's the Verdict on Becton Dickinson's Strategic Portfolio Review?
BD's annual portfolio review
Becton Dickinson (BDX) completed its annual strategic review of its portfolio, which was initiated after the acquisition of CareFusion. The CareFusion business was aligned to the company's medical business. Becton Dickinson found that some of its businesses weren't aligned well with the company's goals and core focus areas. As a result, the company disposed of these businesses. The company remains focused on enhancing the core capabilities of the company and establishing a leaner, more efficient organization. The business segmentation of Becton Dickinson is shown in the diagram below.
Article continues below advertisement
Respiratory solutions business
Becton Dickinson plans to form a joint venture with Apax Partners, which is a private equity firm, to establish a new company comprising of BD's respiratory solutions business. It will help advance the core business areas of the company through focused investment and operations. The business segment is valued at $500 million, and the deal is expected to close by late 2016 or early 2017.
BD's vertebral augmentation solutions business
Becton Dickinson sold the CareFusion portfolio of vertebral augmentation solutions to Stryker (SYK) in April 2016. The product portfolio comprises of minimally invasive systems like branded products AVAmax, AVAflex, AVAtex, and AVAprep.
Some of the other major players in the US medical device industry that have implemented a portfolio review and necessary business realignment and restructuring include Medtronic (MDT), Zimmer Biomet Holdings (ZBH), and Abbott Laboratories (ABT). Investors can consider the Vanguard Dividend Appreciation ETF (VIG) to gain exposure to Becton Dickinson. BDX accounts for ~0.92% of VIG's total holdings.