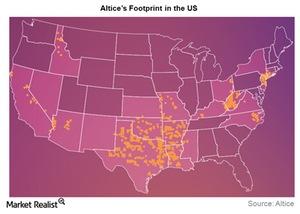 What's Next for Altice after Cablevision Acquisition?
Altice's plans after the Cablevision transaction
In the last part of the series, we learned that Altice's (ATCEY) acquisition of Cablevision's (CVC) acquisition of recently closed. This was Altice's second expansion in the US after the Suddenlink acquisition in December 2015. We also learned about the completion of a major cable merger in the US of Charter Communications (CHTR), Bright House Networks, and Time Warner Cable (TWC) last month. According to CNBC, Dexter Goei, CEO of Altice USA, highlighted, "we're very focused on 2016, as we've told the markets, on integrating and operating our existing platforms both in Europe and here in the US."
Article continues below advertisement
He added, "And then 2017 will be a new year for us. And we'll see what happens. Yes, clearly there is consolidation that's been occurring in the cable industry. That's allowed for less and less players being out there. But that doesn't really change our approach for long-term growth of our business and whether that be through consolidation or organic growth."
Altice's footprint in the US after the Cablevision transaction
Cablevision's customers are in New York, Connecticut, and New Jersey. As per Suddenlink, its key operating areas include Arkansas, Arizona, Louisiana, Oklahoma, North Carolina, Texas, and West Virginia.
Altice's scale in the US after the Cablevision transaction
At the end of 1Q16, Suddenlink and Cablevision had ~1.6 million and ~3.1 million customer relationships, respectively. After the completion of the Cablevision transaction, Altice has the fourth largest cable customer base in the US, after Cox Communications. The top two US cable companies are Comcast (CMCSA) and new Charter Communications.
For diversified exposure to the top two cable companies in the US, you can consider investing in the PowerShares QQQ (QQQ). The ETF held a total of ~4.1% in Comcast (CMCSA) (CMCSK) and Charter (CHTR) as of June 22, 2016.