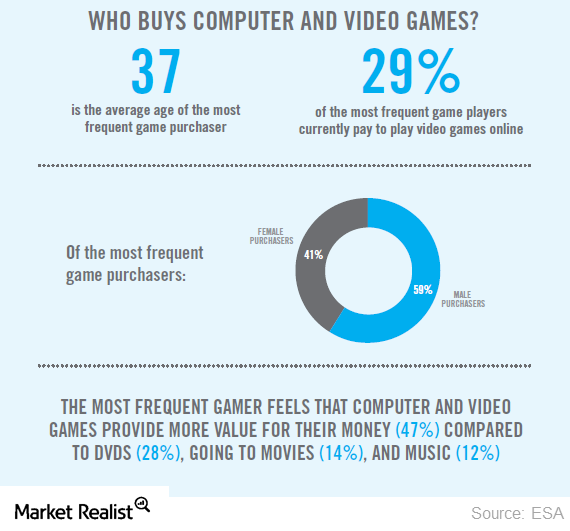 Video Gamers Cross All Age Groups in the US
29% of video gamers are between 18-35 years
According to the Entertainment Software Association (or ESA), 29% of all video game users are between 18–35 years of age, whereas 27% of players are below the age of 18. A surprising number—26% of gamers—are above the age of 50, while the remaining 18% lie between ages of 36 and 49 years.
The average game player is 35 years old, while women account for almost 42% of the total gaming community. Another interesting statistic is that women over the age of 18 account for a greater proportion (33%) of the game-playing population compared to boys who are 18 or younger.
The average age of the most frequent game player is 43, compared to the average age of the most frequent male player, which is 35.
Article continues below advertisement
Article continues below advertisement
Why gaming is the preferred source of entertainment
According to an ESA survey, the most frequent gamers feel that computer and video games provide the most value for their money. The research report notes that 47% feel that video games provide more value for their money. Approximately 28% prefer DVDs, while 14% prefer going to the movies and 12% opt for listening to music.
According to Barbara Chamberlin, project director at the New Mexico State University Learning Games Lab, "Games offer immediate feedback, you can see your progress, you can try something and be frustrated but later learn more…that's why game play is so engaging to us."
The gaming space in the US is dominated by Electronic Arts (EA) and Activision (ATVI). The most popular gaming consoles are the Xbox (MSFT) and Japan's (EWJ) Sony (SNE) PlayStation.