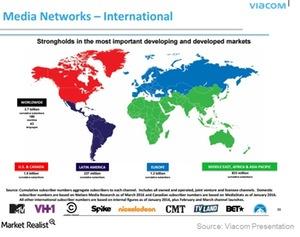 United Kingdom: A Stronghold Market for Viacom
By Shirley Pelts

Jun. 17 2016, Updated 2:05 p.m. ET
Importance of the UK market for Viacom
Viacom (VIAB) stated at the June 9, 2016, Gabelli & Company Movie & Entertainment conference that currently, the United Kingdom (EWU) represents around 40% of the company's international revenues.
Viacom has the second largest privately owned media network in the UK, including broadcast networks. The company continues to gain market share in that country and is aiming to be in the top three media networks, whether privately or publicly owned, in that country.
Viacom (VIAB) has 23 media networks in the United Kingdom. The company is concentrating on developing its six major brands in the UK, including MTV and Nickelodeon. The company is targeting growth in the United Kingdom via the expansion of its brands or through strategic acquisitions.
Viacom's acquisition of the United Kingdom's Channel 5 is working out well for the company. The company acquired Channel 5 in 2014 for about $644 million.
Article continues below advertisement
Impact of the Channel 5 acquisition
The Channel 5 acquisition has led to Viacom gaining access to nearly 100% of the United Kingdom's television audience, particularly for the Nickelodeon brand. As a result, Viacom expects a "strong double-digit growth in revenues" in fiscal 2016 in the United Kingdom.
The company stated at a Deutsche Bank (DB) investor conference in early 2016 that its revenues in the United Kingdom have already crossed the $900 million mark. Viacom's operating income has grown by 20% in that country.
Other US media companies that are trying to grow in the UK market include The Walt Disney Company (DIS) with its launch of DisneyLife, a direct-to-consumer service. Other major US OTT (over-the-top) players such as Netflix (NFLX) and Amazon's Prime Instant Video service (AMZN) already have a strong presence in the United Kingdom.
Netflix accounts for 0.78% of the PowerShares QQQ Trust Series 1 ETF (QQQ). If you're interested in exposure to the television sector, QQQ has 4.5% exposure to that sector.