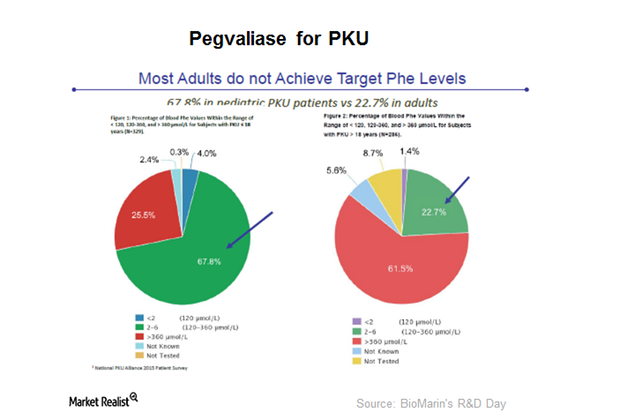 Understanding the Valuation Catalysts for BioMarin in 4Q16
By Jillian Dabney

Jul. 6 2016, Updated 2:06 p.m. ET
Pegvaliase BLA submission in 4Q16
BioMarin Pharmaceutical (BMRN) plans to file a BLA (Biologics License Application) with the FDA (US Food and Drug Administration) by the end of fiscal 2016. (For more on the market opportunity for Pegvaliase, check out "What Are BioMarin's Products for Treating Phenylketonuria?")
Pegvaliase is indicated to treat PKU (phenylketonuria). If approved, BMRN will hold two drugs Kuvan and Pegvaliase for the indication of PKU. However, Kuvan's sales won't be hampered by Pegvaliase's approval because the later will be used in patients who aren't ideal for Kuvan or need a more potent option.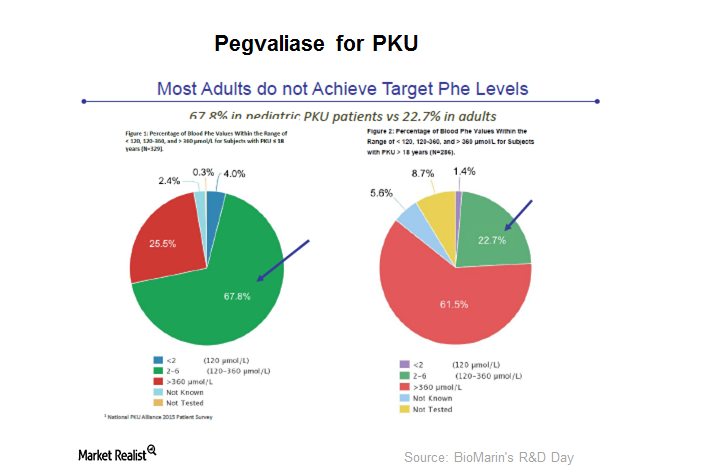 Article continues below advertisement
Currently, there is a large unmet need for adult PKU patients. Pegvaliase is targeted at adult population patients with elevated phenylalanine levels, while Kuvan is indicated for all age groups. Notably, 67.8% of the pediatric population and 22.7% of the adult population currently doesn't achieve the targeted Phe levels.
Vosoritide: Phase-3 initiation
This pipeline molecule is indicated for achondroplasia, which is the most common form of dwarfism. The disorder is characterized by a failure in the normal conversion of cartilage into bone, which leads to dwarfism or disproportionally short stature. People with this disorder may experience serious health complications such as "foramen magnum compression, sleep apnea, bowed legs, mid-face hypoplasia, a permanent sway of the lower back, spinal stenosis and recurrent ear infections."
BMRN is investigating the drug in children under 18 years of age. It plans to initiate a phase-3 study for the drug by 4Q16.
BMN 270: final data expected
BMN 270 is a gene therapy indicated for hemophilia. The companies that lead the hemophilia space include Baxalta, which has been acquired by Shire (SHPG), Biogen (BIIB), and Pfizer (PFE).
As a company's share price is always susceptible to any industry or company-specific event, you can explore options such as the Biotech ETF (BBH) for more diversified exposure to equities. Notably, BBH has ~4.2% of its total holdings in BioMarin.
In the next article, we'll discuss the next generation therapies for hemophilia and BMN 270 in detail.