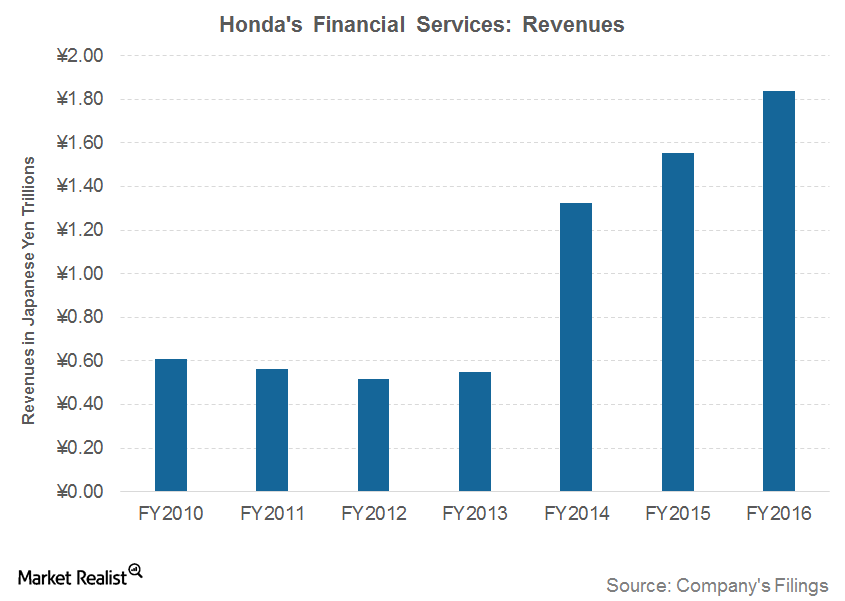 Understanding Honda's Financial Services Business
Honda Financial Services segment
Previously in this series, we looked at Honda's (HMC) Power Products business and how it helps the company to expand its brand presence worldwide. Now, we'll find out how Honda Financial Services, the financing arm of the company, is helpful in generating more sales volume.
Honda Motor Company manufactures a wide variety of vehicles, including motorcycles, small cars, pickup trucks, and large trucks. Also, the company offers various power products, which we discussed in the previous part.
The majority of its portfolio is targeted to the general public. To encourage consumers to purchase its products, the company provides financing services through Honda Financial Services.
Primarily, Honda provides the following finance facilities through its financial services arm.
Article continues below advertisement
retail lending and leasing to customers willing to buy or lease Honda products such as sport utility vehicles, minivans, motorcycles, power sports products, marine engines, and power equipment
wholesale financing to dealers to support them in maintaining adequate inventory at various dealership locations
Currently, Honda operates various financial services companies to support its global product sales in its key markets, including Japan, the United States, Canada, the United Kingdom, Germany, Brazil, and Thailand.
Recent performance
In fiscal 2016,[1. ended March 31, 2016] Honda's Financial Services's net revenues stood at 1.8 trillion Japanese yen. This is 18% higher than its fiscal 2015 revenues of 1.5 trillion yen.
In the last five fiscal years, Honda's Financial Services's revenues have more than doubled. These rising revenues from the Financial Services segment reflect optimism in Honda Motor Company's overall sales pattern. Also, the recent low interest rates in the US have encouraged more people to utilize the company's financing options.
As long as the company continues to improve its retail vehicle sales, investors can expect this positive trend in Honda's Financial Services's revenue to continue.
Among the other major automakers (FXD), Ford Motor Company (F), Toyota Motor (TM), and General Motors (GM) also provide financing facilities to their customers and have their own financial services arms.
Now, let's take a look at Honda's marketing strategy and how it has played a critical role in its success.