What Does the UK Really Have to Gain from Exiting the EU?
The EU's light immigration laws allow young talent to work across the EU, but with more immigrants entering the UK, local citizens have less access to jobs.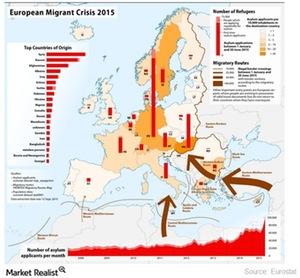 Why the UK decided on a "Brexit" referendum
It appears that many of UK citizens want to leave the EU (HEDJ) (VGK) for the following reasons:
They believe that the EU imposes too many rules on doing business.
The EU charges billions of pounds in membership fees every year.
As the EU allows free movement of people within its member countries, jobs for local UK residents have been reduced.
The sovereignty of the UK has been compromised in recent years as the EU also imposes rules regarding defense, judiciary, and policymaking.
Article continues below advertisement
Article continues below advertisement
The major reason behind the referendum
The employment and the migrant crises appear to be the biggest problems behind this referendum. The EU's light immigration laws allow more young talent to do jobs anywhere in the zone, but with so many immigrants entering the UK, it threatens to keep local citizens from access to jobs.
Apart from this, the burning issue for every EU country (FEZ) (EZU) is to safeguard its borders from terrorist groups like ISIS. As part of the European Union, member countries are forced to accept refugees from countries like Syria and North Africa. In the current scenario, politicians in the UK (EWU) are demanding stiffer rules when accepting refugees, which poses a direct challenge to the EU's (VGK) (HEDJ) jurisdiction.
Meanwhile, policymakers are brainstorming to find a balanced way to solve the problem. The reasons are obvious. If terrorism enters the country through migrants, it can spur social unrest in both in the EU and the UK. Read "What Political Issues in the UK Led to the Brexit Referendum?" to learn more.
Now let's analyze how much the UK's financial sector will be hampered by the Brexit.