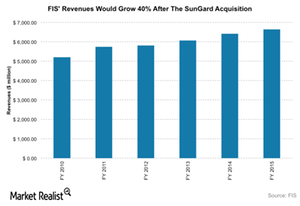 What the SunGard Acquisition Could Bring for FIS
Deal overview
In August 2015, Fidelity National Information Services (FIS) acquired SunGard for $9.1 billion, its largest acquisition to date. SunGard is expected to expand FIS's top line by nearly 50% and enable it to enter capital markets and asset management businesses (XLF).
With SunGard, FIS stands to take in over $9 billion in annual revenue. By comparison, its rival Fiserv (FISV) booked $5.2 billion revenues in 2015, while DST Systems (DST) generated $2.8 billion. SunGard is expected to boost FIS' revenues by 40%. FIS also competes with Jack Henry & Associates (JKHY).
Article continues below advertisement
Article continues below advertisement
What's in the SunGard acquisition for FIS?
Prior to this acquisition, FIS was focused on the banking and payment sector. With the SunGard acquisition, the company can now broaden its horizons into capital markets, asset management, and wealth solutions. With its strong pipelines, SunGard is expected to create opportunities for cross-selling FIS's products.
Once SunGard is completely absorbed, FIS expects to expand beyond North America in the core account processing market and become a global software vendor to the broader financial services industry.
From the CEO
Gary Norcross, FIS's President and CEO, stated that "at FIS, we are driving innovative solutions and delivering high-quality client experiences that move our clients' business forward each and every day," adding that the SunGard acquisition "creates one of the broadest sets of technology assets and market expertise in the industry and allows FIS to present new opportunities to our existing client base as well as to financial services markets that we have not historically served."
The deal that closed in November 2015 and isn't expected to hit net profitability for FIS for some time, given the debt load created by the acquisition. SunGard has almost tripled FIS' debt ratios, but its ability to generate cost and revenue synergies remains to be seen.
Notably, the SPDR Technology ETF (XLK) and SPDR S&P 500 ETF (SPY) have exposure to FIS.
In the next part, we'll discuss FIS's debt and cash flow in more detail.