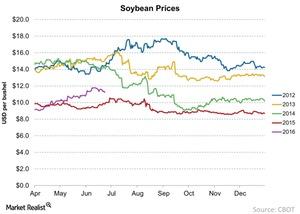 Why Are Soybean Prices Rising?
Soybean prices
In the final part of this series, we'll delve into the recent soybean prices and how they have trended over the years. By looking at these trends, we may get an insight into the fundamentals of seed companies such as Monsanto (MON) and Syngenta (SYT).
We can also look into the fundamentals of fertilizer companies such as PotashCorp (POT) and CF Industries (CF), as well as a broader portfolio of ETFs such as the VanEck Vectors Agribusiness ETF (MOO).
Article continues below advertisement
Prices moving higher
On June 26, 2016, soybean prices stood at $11 per bushel, compared to ~$10 per bushel on June 26, 2015. Despite the global stock-to-use ratio for soybeans being lower than all the other years, its prices are sitting on the lower end of the price band, as we can see in the chart above.
This may imply an expectation for higher soybean crops as we go further into the harvest season for the year. Soybean prices are stagnant, as are the prices for corn and wheat. This is also why farm income has been declining over the years. In the near term, this stagnation has failed to generate excitement in the seeds sector and the fertilizer sector.
To learn why crop prices are important for fertilizer companies, please read Why Aren't Fertilizer Stocks Moving Up with Crop Prices?
Also, stock-to-use figures are published monthly by the USDA. We will update these figures as they are released.